An overview of the Benelux esports ecosystem and its stakeholders
Esports is the fastest-growing segment in the sports industry. Thanks to a burst in esports awareness and viewership, the industry is starting to grow into a matured industry in its own right. We're seeing this in the Benelux as well!
After taking on the internet by storm, we're also seeing more mainstream media coverage. Coupled with improved monetization models such as advertising & sponsorships this means great momentum for the esports ecosystem.
So who is involved in the esports landscape? There are many companies and initiatives contributing to the esports market. It's the ecosystem of pro gamers, esports companies, sponsors, and fans that enable the global rise in popularity. Newzoo's global esports market report predicts the market to surpass $1 billion in revenue by the end of 2021.
One key trend we're seeing is the localization of esports. In the Benelux, we're seeing more and more initiatives around esports, and we love it! To give you a clear overview of what the esports ecosystem in the Benelux looks like, we've mapped out the different stakeholders.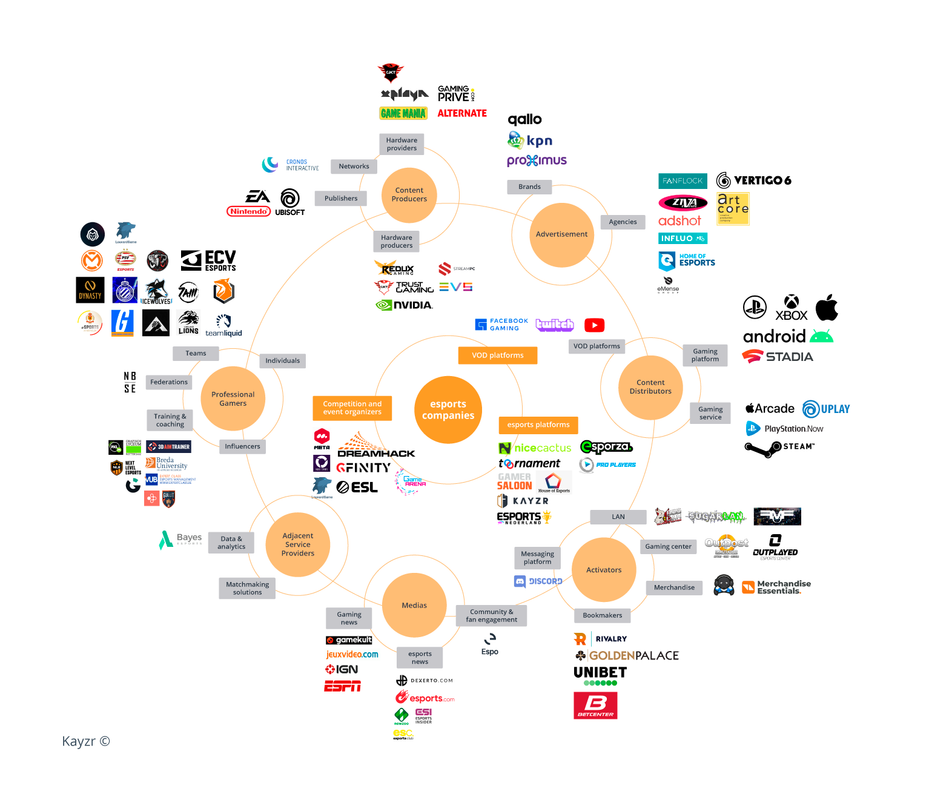 Let's dive a little deeper into the Benelux esports market!
The center of the esports ecosystem
At the core of the esports ecosystem are companies that enable esports tournaments or leagues, viewership, and events.
Esports platforms
Esports platforms allow gamers to compete in their favorite games. The primary purpose of these platforms is to provide entertainment and an environment for gamers to compete in. Gamers sign up and can compete in a variety of ways: single matches, tournaments, or 24/7 leagues.
For every victory, gamers can improve their ranking and sometimes earn rewards, depending on the platform. Kayzr is the largest esports platform in the Benelux, with over 100,000 users. You can connect with a community of gamers and compete in games such as League of Legends, Call of Duty, and many more.
Some other esports or competitive gaming platforms active in the Benelux are Esports Nederland, Nice Cactus, Challengermode and Toornament. These are more focused on international audiences or different types of games.
Competition & event organizers
These are the companies responsible for organizing real-world or online events. They work behind the scenes to host tournaments and leagues across the world, or locally!
One of those examples is Dreamhack. They host open participation esports competitions with the goal of aspiring teams to prove themselves as world-class pro gamers. Some other international companies are the ESL or Electronic Sports League and GFinity.
In the Benelux, we have EGO who organize FIFA, Call of Duty, and Gears of War tournaments. There is also team META who is responsible for the Belgian College League, an esports competition between colleges, as well as the Benelux League and the Belgian and Dutch League. Lastly, of course, we have our very own Kayzr League!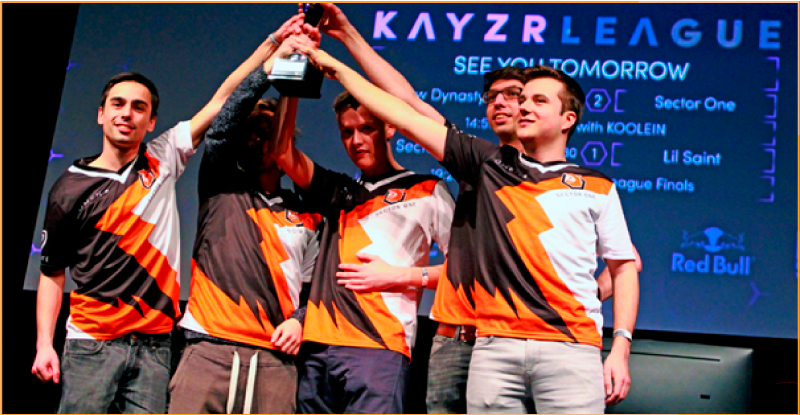 VOD platforms
VOD platforms provide users with a library of video content that can be accessed on-demand. Hence, VOD or "video on demand". In the gaming world, we have platforms like Twitch, Facebook Gaming, and Youtube Gaming that significantly boost esports viewership. You could compare these with streaming services like Netflix or Disney+.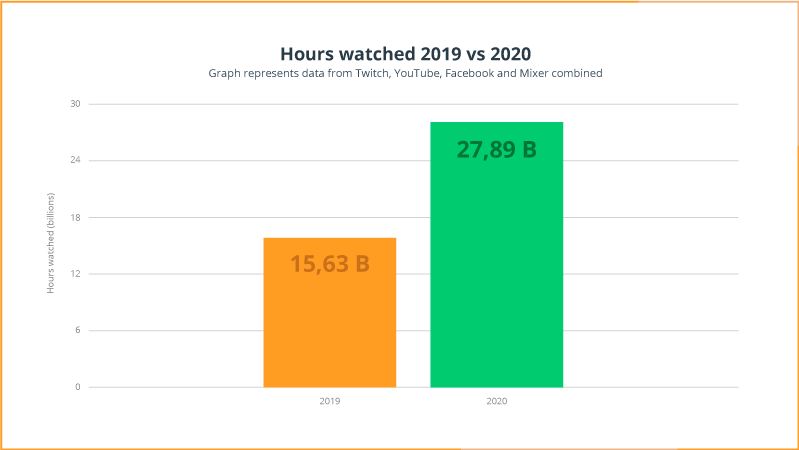 Total esports viewership across the top streaming platforms reached 27.89 billion hours in 2020. That's a 78.5% growth compared to 2019! Live streaming also plays a big role in esports viewership, with over 4 billion hours of live esports and gaming content watched in 2020.
Advertising & sponsorship as an esports growth driver
Advertisement and sponsorship is a key driver in esports growth. Large viewership numbers are attracting brands and agencies to get into the market where they can get in front of the hard-to-reach digital natives.
Brands
Endemic brands
Endemic brands are those that sell products on which the sport relies. In esports, this means mostly gaming hardware. Steelseries is one of those examples, as a leading manufacturer in gaming headsets, mice, keyboards, and more.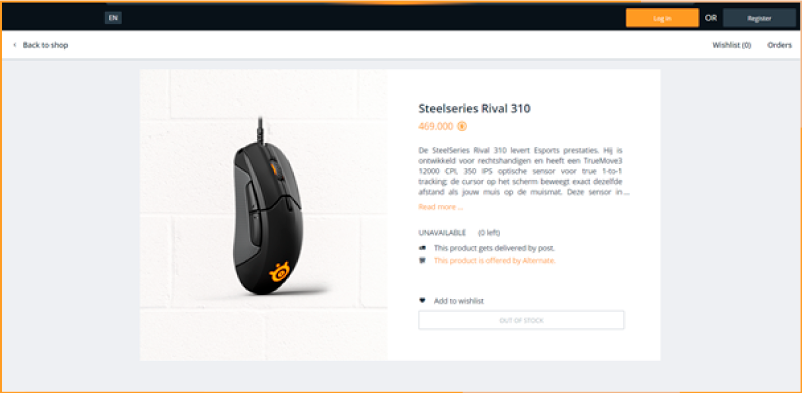 Another Belgian esports brand is Qallo, they offer supplements for gamers. Qallo sponsors their own Qsquad with professional esports players such as Stefano Pinna, pro-gaming teams like SectorOne, and streamers such as LilSkittleTV and TheBestAkaliEvr.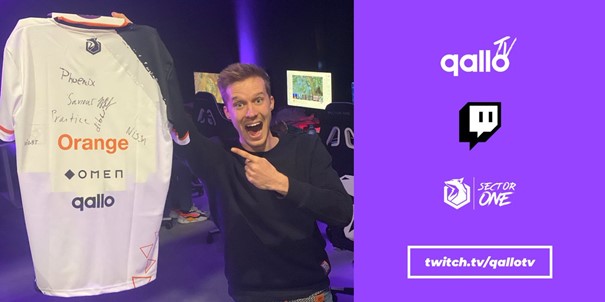 Other endemic brands which sponsor esports in the Benelux include Alternate, Facts, Golden Palace, and Unibet.
Non-endemic brands
These are brands whose products don't have a direct link to the esports market but still benefit from using esports in their marketing strategy. Some well-known international examples are Red Bull and even DHL.
Proximus, a Belgian telecom brand and large sponsor in traditional sports is also a big sponsor of many esports leagues. They host their own Epic League on Kayzr and sponsor the Belgian league with META as well. Additionally, they also sponsor the ePro League, the FIFA counterpart of the Jupiler football Pro League.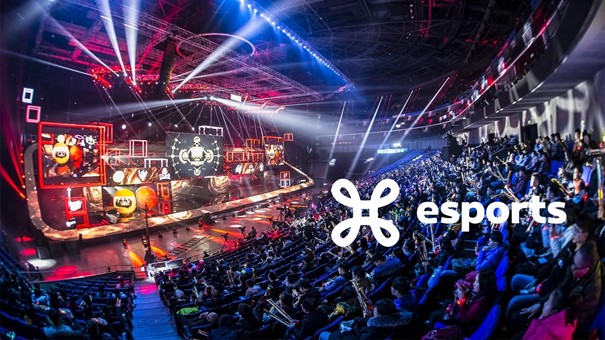 In the Netherlands telecom brand, KPN also extended their sponsorship to the esports division with the aim of reaching a younger audience.
"The partnership with the eDivisie is a great addition to our football partnerships through which we will reach a large part of the Dutch gamers. Esports is one of the fastest-growing sports communities in the world."
– Mark Versteegen, Head of Corporate Sponsorships @KPN
Other non-endemic brands that have been investing in esports in the Benelux include KBC, Lensonline, Knorr, and Takeaway.com.
Agencies
Esports or influencer marketing agencies often form the bridge between the esports community and brands. Adshot and Influo are both influencer platforms that help brands get involved in the esports community.
Adshot connects 100+ brands to over 2000 content creators or influencers. They helped Proximus Epic to generate over 5.5 million YouTube views and 53.7 years of watch time on content with the Proximus logo.
Content distributors as a key delivery partner
Content distributors are responsible for distributing gaming and esports content & getting video games in front of the right audience.
VOD platforms
These are the platforms such as Twitch, YouTube Gaming, and Facebook Gaming which we mentioned in the beginning.
Gaming hardware
These are the companies that create the hardware on which video games can be played. Devices used for gaming are the PC, game consoles, and mobile phones.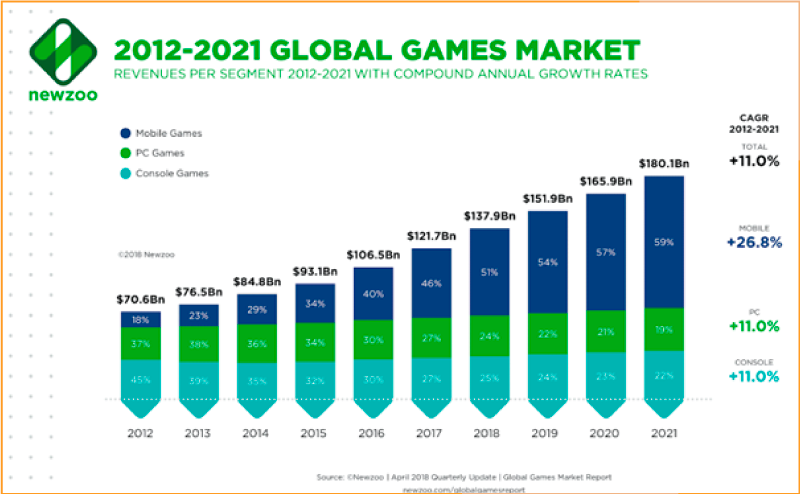 Console
The most used consoles for esports are PlayStation, X-Box, and Stadia. There are of course also other consoles used for gaming such as the WII or Nintendo Switch.
Mobile
Mobile gaming is another key driver in esports growth. Not only is mobile gaming one of the fastest-growing revenue sources in gaming, but it also brings in the most revenue compared to consoles or PC games. Most of mobile gaming hardware is created by IOS and Android.
Gaming platforms & services
These are platforms where you can buy games. Steam is the most used platform for PC games but there are plenty of alternatives such as GOG.com, Uplay, and Itch.io.
Game publishers like Blizzard, Ubisoft, and Epic Games often have their own store on which you can buy their games and other game-related stuff!
The activators that bring the esports & gaming community to life
These are the companies that get everything in place to activate the gaming audience.
Bookmakers
Bookmakers allow for bets to be placed on esports competitions. Rivalry.com is a prime example, but there are many others such as Golden Palace, Unibet, Betcenter, and Betway.
LAN
LAN stands for local-area-network, a collection of devices connected in one physical location. In the Benelux, we have SugarLan, FOM, and 666 where you can use their gaming hardware to go crazy! These locations also organize events and tournaments to hone your gaming skills.
Gaming centers
We also have several esports centers in the Benelux. Outplayed is one of these centers that boosts the Belgian esports market. There is also Outpost in Ghent and KRC Genk's esports Arena. These centers hold tournaments and community events to promote esports and often incubate esports talent to help them go pro.
Hardware providers
Hardware providers don't create hardware themselves, however, they get it to the consumer. In the Benelux, we have well-known players like Game Mania and Alternate which are complemented with local alternatives such as Redux Gaming, and gamingprive.com.
Services
These are online services that connect the esports audience with each other. Two of the most popular social media platforms in gaming are Discord and Reddit. There is also Kayzr who connects local gamers from the Benelux. These platforms allow for vibrant fan communities to connect and share their gaming experiences.
Merchandise
Fans love to buy merchandise from their favorite teams or players! Merchandise Essentials and Manatee are two organizations in the Benelux that produce high-quality apparel for esports teams and brands.
Esports & gaming-focused media coverage
Community & fan engagement
Espo is a fan engagement platform for the esports community. They connect fans, brands, and professional players in one place. As a fan, you can sponsor your favorite esports teams or influencers and get over 100 exclusive fan benefits from world-class esports teams.
Esports news
Websites that cover esports tournaments, leagues or professional gamers and teams belong here. Dexerto, Esportsbelgie.be, esports.com, or Esports Insider are some of the most visited ones. Finally, there is also Newzoo, located in Amsterdam. They provide both gaming and esports market insights.
Gaming news
These websites are focused on games instead of esports. This means they talk more about the game itself and publish stories about upcoming games, special events, and game upgrades. IGN Benelux for instance is the place for everything game-related. There is also jeuxvideo and gamekult.
Adjacent service providers in esports
There are lots of neighboring service providers that specialize in esports use cases.
Data analytics
Bayes esports collects and analyzes data to monetize pro-level leagues and tournaments and offers live in-match data and live odds for major esports titles. Belgian startup statrics develops software that gives gamers performance data so they can improve.
Matchmaking solutions
These are platforms that allow gamers looking for a match to compete against each other. Most matchmaking solutions take into account the game type, level, etcetera. Kayzr is the leading platform to do this in the Benelux. Other examples here are Nice Cactus and Challengermode.
Professional gamers at the center of entertainment
Without professional gamers, there is no esports. Even in the Benelux, we're seeing more and more people turning gaming into a full-time career. Here is what that looks like:
Individuals
Belgium
In Belgium, we have gamers like Bwipo, ScreaM, Stefano Pinna, Ex6TenZ, and more. These are all skilled in different games such as CS:GO, League of Legends, FIFA, and Valorant. You could compare them with national pro athletes who all play a different sport.
Netherlands
Here we have professional CS:GO players and Twitch streamer PeperTV, and ThijsNL who plays Hearthstone. There is also Rojo who won over 1.6 million dollars by playing Fortnite and Febiven who has played in different international League of Legend teams.
Jarno Opmeer, the most successful esports athlete in the Netherlands transferred from Alfa Romeo to Mercedes esports team to race in the F1 Esports Pro Series.
Influencers
Belgium
We have comedian William Boeva hosting the YouTube show Gamelabs in partnership with the radio station Studio Brussel. He plays everything from Candy Crush to League of Legends with radio hosts Bouba Kalala and Eva Mundorff.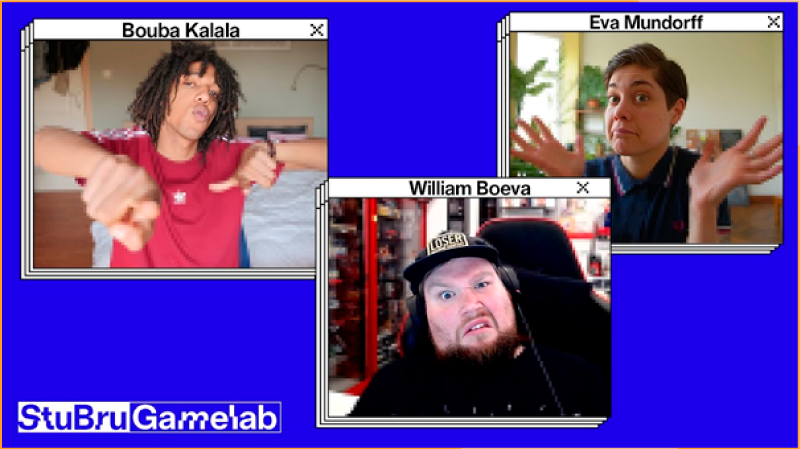 Another 29-year-old Belgian gamer is Abulic. He streams on Twitch and regularly uploads videos to YouTube. He has done sponsorship deals with brands like Deliveroo (through Adshot) among others.
Netherlands
Ronald Vledder and Puck or Puxque are two of the best-known game influencers in the Netherlands. In a partnership with Samsung they tested their hardware for 24 hours in a bunch of different games.
In a crossover event, Samsung Benelux organized the Samsung Game Off where they put Ronald and Puxque against William Boeva and Abulic. The "Samsung Game Off" determined once and for all who's the best gamer in the low lands.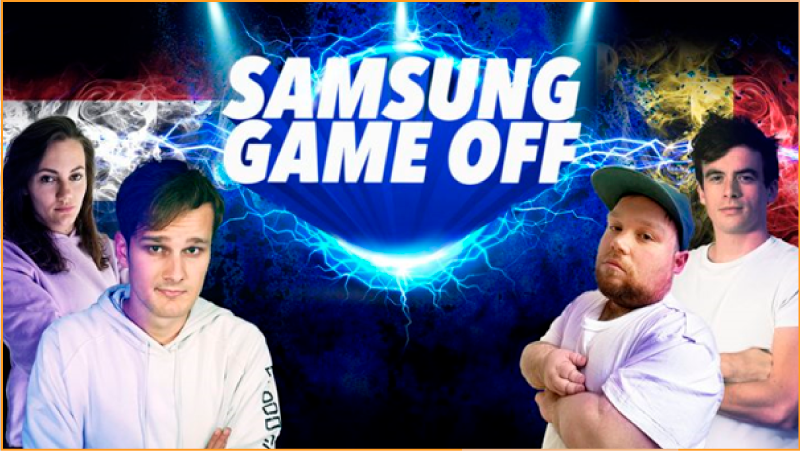 Teams
Some competitive games require more than one pro player. In this case, you need an esports team. LowLandLions is an organization that sponsors these teams in several sports.
The League of Legends team consists of Fabian de Lint, Damian Filipow, Max de Beer, Dawid Wyskiel, and Luca Hansen. All of them have a different role within the game. The team also sponsors a CS:GO team and several Twitch streamers.
Other Belgian esports teams are Sector One, Team 7AM, 4elements, Icewolves, and ION Squad. There are also some football teams that are starting their own esports team such as KRC Genk Esports, KVM esports, and Eclub Brugge.
In the Netherlands we have Team Liquid, Join the Force, thrll, mCon Rotterdam, dynasty, and more. Football clubs like PSV also started their own esports team.
Federations
Some federations that support esports are FLEGA which stands for the Flemish Game Association, the Dutch Game Association, and the Belgian esports federation. These federations support the sector and connect individuals and companies with each other. They also partner with each other to promote the Benelux games industry outside of our borders.
Training & coaching
Yes, esports athletes also need to train! In Amsterdam, the largest esports event location in the Benelux has an H20 esports campus. Here you can get group-and personal training, as well as structured gaming courses. You can participate in competitions and community events and even learn how to stream!
Belgian college PXL also started their own esports postgraduate program. Here they will train future esports business architects with insights from over 25 professionals. They will learn everything related to esports technology, media, marketing, and business.
Internationally, over 8 million gamers are using 3D AIM TRAINER to improve their shooting skills for games like Valorant, CS:GO, Fortnite, Call of Duty, and many more. There are over 120 academy levels users can go through to become an advanced esports shooter.
Other initiatives like this are proguides.com, where pro gamers teach you the trade secrets of esports and the Export Class in Esports Management at the Vrije Universiteit Brussel (VUB) .
Content producers that create the games we play today!
Networks
Cronos interactive is a Belgian-based game & immersive technology network that helps you build your own games. They connect you with a network of experts in game publishing, interactive entertainment, immersive technology, and marketing.
Game publishers
Companies such as EA, Ubisoft, and Blizzard fall into the category of game publishers. They publish and often also promote video games that are either built internally or developed externally by a video game developer. Game publishers often fund the development of games themselves or through investors.
You also have a lot of independent game developers or game studios who develop games for Android, IOS or other gaming networks.
Hardware products
Without hardware, you can't consume any content. Companies like Nvidia, X-Box, and Playstation play a central role in the production of video games. What will the graphics look like? How fast can the hardware go? How much can it handle?
Companies like Sennheiser and Cooler master add to the gaming and esports experience with specialized gaming computers, chairs, and headphones.
---
So what's next for esports in the Benelux?
As you can see, there are many companies and people building the esports market in the Benelux. There are also new initiatives and pro gamers coming up as we speak. Evidently, we're excited to see what's next.
The fast-growing esports viewership provides brands with an opportunity to connect with digital natives in an immersive way. With Kayzr we'll be happy to take the lead in growing esports awareness in the Benelux, and helping companies get into the market.