How big is the emerging esports market? A look at the numbers
The esports audience is growing exponentially, and with it, esports revenue keeps increasing as well. A few years ago esports was still seen as something relatively new. After some doubt and commentary coming from mainstream media, record numbers have forced any skeptics to rethink their statements.
Now that media coverage is increasing, more stakeholders enter the market to try out new commercialization models. We're seeing esports grow into a fully matured market, which makes it the perfect time and place for brands to re-engage with their younger audiences.
Numbers don't lie! That's why we created this article to highlight some of the numbers in esports.
Here's what we'll break down for you:
The global esports market
Esports as a rising star in Europe
The esports audience in the Benelux
Trends & drivers in esports revenue growth
Global esports market
Among the entire world population, about 4,5 billion people are online. From this online population, about 44% is esports aware. This means they have heard about esports, but are not necessarily viewers or participators.
With the fast growth of the esports audience, commercialization models are maturing. The once geeky trend is starting to become mainstream, and advertisers have noticed this as well. Esports is allowing brands to get in front of digital natives and opens up creative ways of doing so.
Let's dive into some numbers based on this Global esports report by Newzoo, a gaming and esports insights company.
Esports audience growth & forecast
In 2019 there were around 443 million esports viewers. That's more than the entire US population! With a year-over-year growth rate of 11,7%, the esports audience hit 495 million viewers in 2020. About 223 million of them are seen as esports enthusiasts, these are people that watch esports more than once a month. Additionally, 272 million qualify as occasional viewers.
By 2023 the esports audience is expected to grow to 646 million viewers. 295 million of them will be enthusiasts, and another 351 million will be occasional viewers. This will mean a cognitive annual growth rate (CAGR) of 10,4% between 2018 and 2023.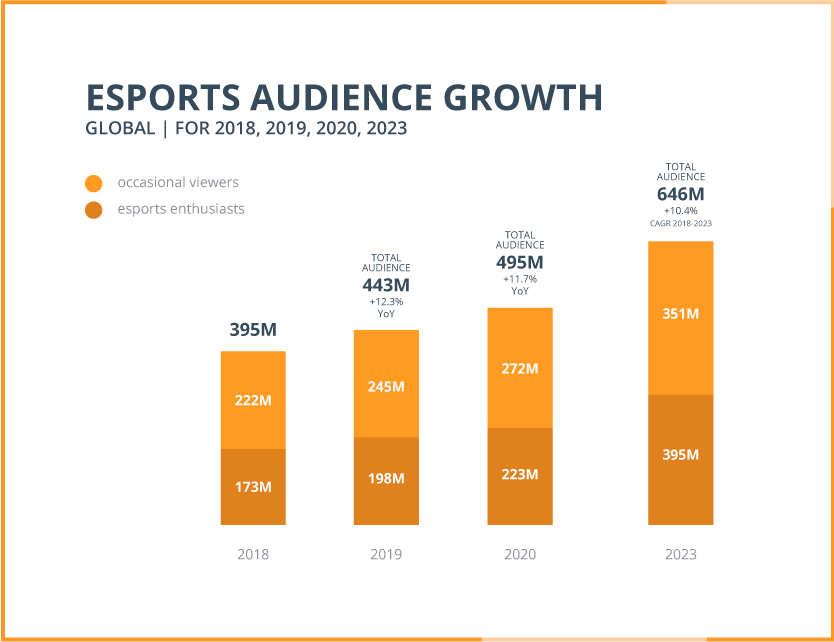 China remains the lead contributor with an esports audience larger than 160 million people and over 530 million people who are esports aware. The industry also sees growth in emerging markets like Brazil and India. Additionally, generations that grew up playing video games are now further maturing into the market.
Worldwide esports revenue
The average global esports revenue per esports enthusiast is 4.94 dollars. This allowed global esports revenue to hit 950 million dollars in 2020. It would have crossed the billion-dollar threshold if it weren't for the COVID-19 outbreak.
By 2023 the global esports market is expected to reach 1,5 billion dollars. Revenue from merchandise and ticket sales will exceed game publisher fees, which will remain stable over the following years. Independent event organizers pay game publishers for the rights to use their game.
Top global esports revenue streams
The number one revenue stream remains sponsorship with a value of over 636 million. Red Bull for instance sponsors several esports teams and events like the European League of Legends Championship. Definitely a big uptick from 2019 with an additional 93.4 million in esports revenue from sponsorships.
After that comes media rights with an estimated 185 million, merchandise & tickets with 121 million, and publisher fees worth 116 million.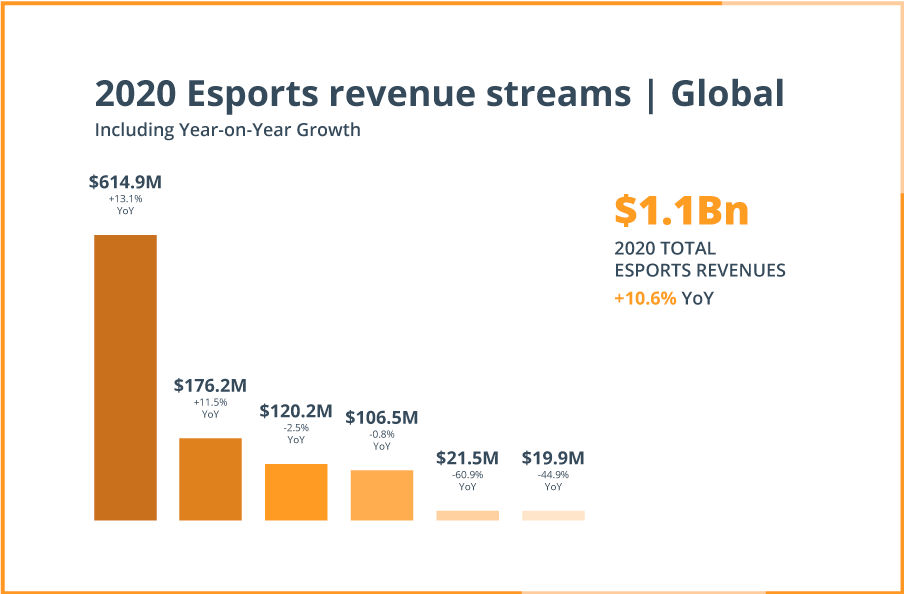 Two newcomers are digital & streaming which contribute around 40 million to esports revenue. Streaming represents revenue from donations, subscriptions or sponsorships on live streams. Digital, on the other hand, comes from in-game purchases.
While these might be small contributors, for now, they're also the fastest-growing revenue streams. Digital revenue is expected to have a year-on-year growth of 60.9% while streaming grows at a rate of 33% year-on-year.
Note on COVID 19
The largest recent impact in global esports revenue was mainly a decrease in ticket sales due to live-event cancellations. Additionally, expectations for merchandise sales dropped from 76.2 million to 52.5 million, as fewer people bought merchandise during live events.
Due to these changes global esports revenue expectations changed from 973.9 million to 950.3 million. It's not a terrifying drop but the negative impact on consumer-brand spending could hurt the growth of both sponsorship and media-rights revenues in the future.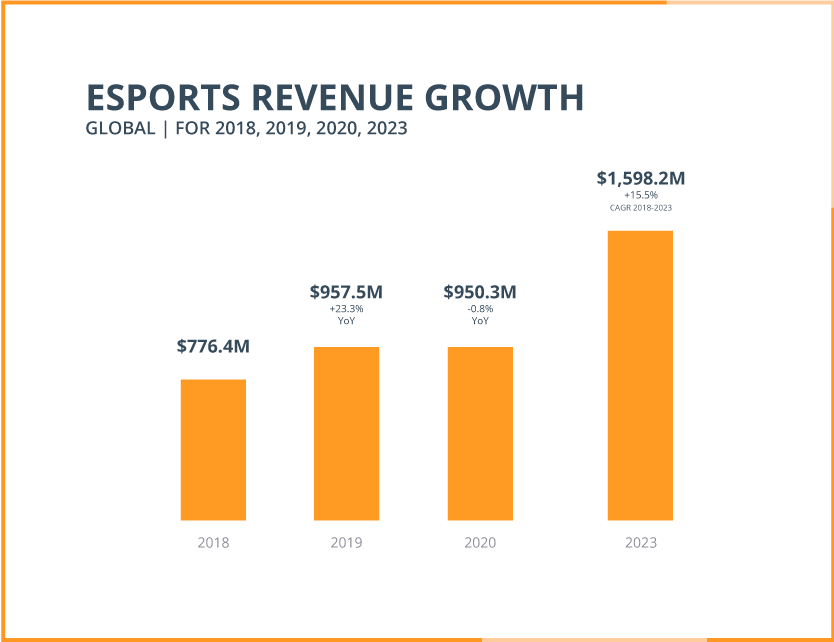 It's not all bad, though! With no live sports events, esports has been in the spotlight during 2020. In fact, Riot Games, the company behind League Of Legends, actually increased their viewership. They saw their esports audience grow between 16.7 and 30% during their summer competitions.
Most watched games
Every year people watch billions of hours related to video games. However, there is a difference between esports and game content.
Esports content is all content that includes live-programmed esports matches and pre or post-match discussions and analysis.
Game content is all content related to game streamers, influencers, or talk shows.
Top 5 most-watched esports content
The five most popular games in esports content are mostly watched on PC devices.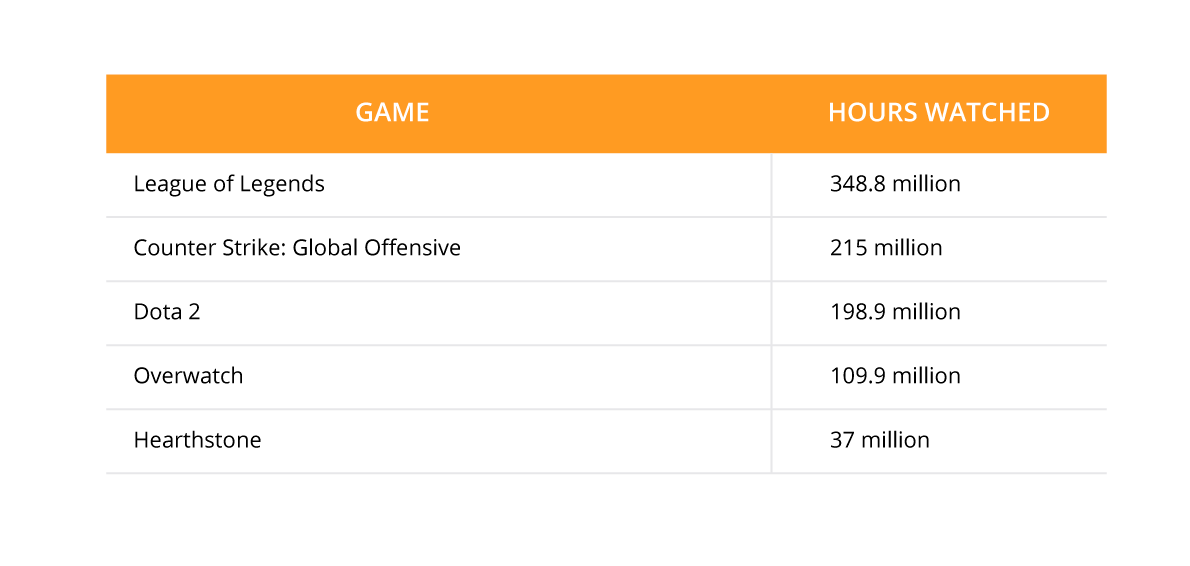 On mobile devices "Arena of Vallor" was the most-watched esports content with 31.6 million hours, followed by "Pub G Mobile" who captured 27.9 million hours of viewing time. For console devices, Smash Bros came in at first place with 18.6 million viewed hours, followed by Call of Duty with 13.3 million.
Top 5 most-watched game content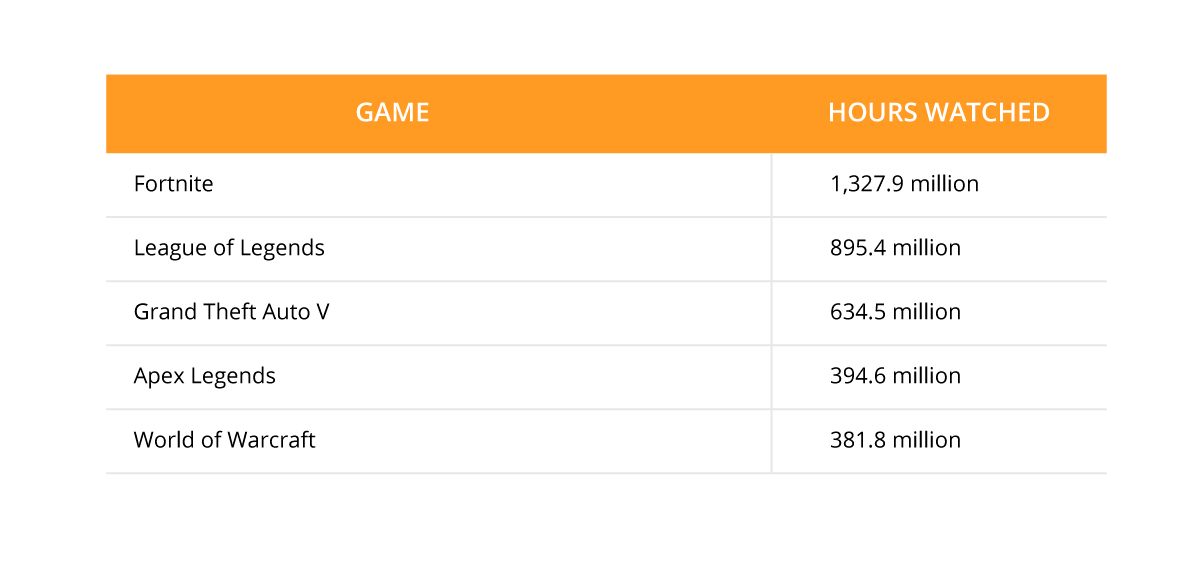 The 50 most popular games gather a total of 7,833 billion hours of viewing time. To put that in perspective, that's good for almost one watched hour for the entire world population!
Esports as a rising star in Europe
Europe accounts for about one-third of the global esports market. Along with Asia and North America, they make up most of global esports revenue. European markets have been maturing fast due to an increase in popularity and viewership.
The growing esports audience is increasing media engagement, which sparks curiosity among traditional sports leagues, and non-endemic brands to enter the market. Here's a quick overview of the European esports market!
Esports audience & revenue growth in Europe
The esports audience in Europe grew from 86 to 105 million people in the last two years. Between 2016 and 2020, 38 million new esports viewers joined the market. The largest esports country in Europe is Germany.
This fast-growing esports audience is causing new sponsors and other stakeholders to enter the market. More media coverage also means more opportunities for advertisers. Between 2016 and 2020 esports revenue increased by 142%. By 2023 esports revenue in Europe is expected to hit 670 million.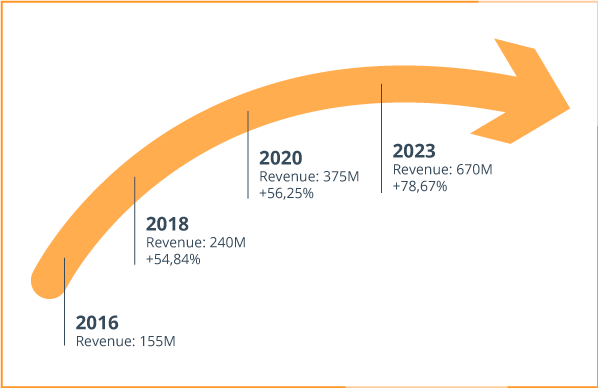 Next to sponsorship and advertising, esports revenue from media rights is expected to increase by 500% from 2016. Since 2018, European esports revenue hit 240 million and is expected to grow at an annual growth rate of around 23% until 2023.
The esports audience in the Benelux
Kayzr is the largest esports platform in the Benelux. With over 100,000 gamers on their platform, they allow brands to get in front of hard-to-reach digital natives. Kayzr has somewhat representative data for that region. They'll be opening up these numbers to the world, for the first time!
The average age of Kayzr users is 23,93 years old. Nevertheless, the esports audience consists of all ages.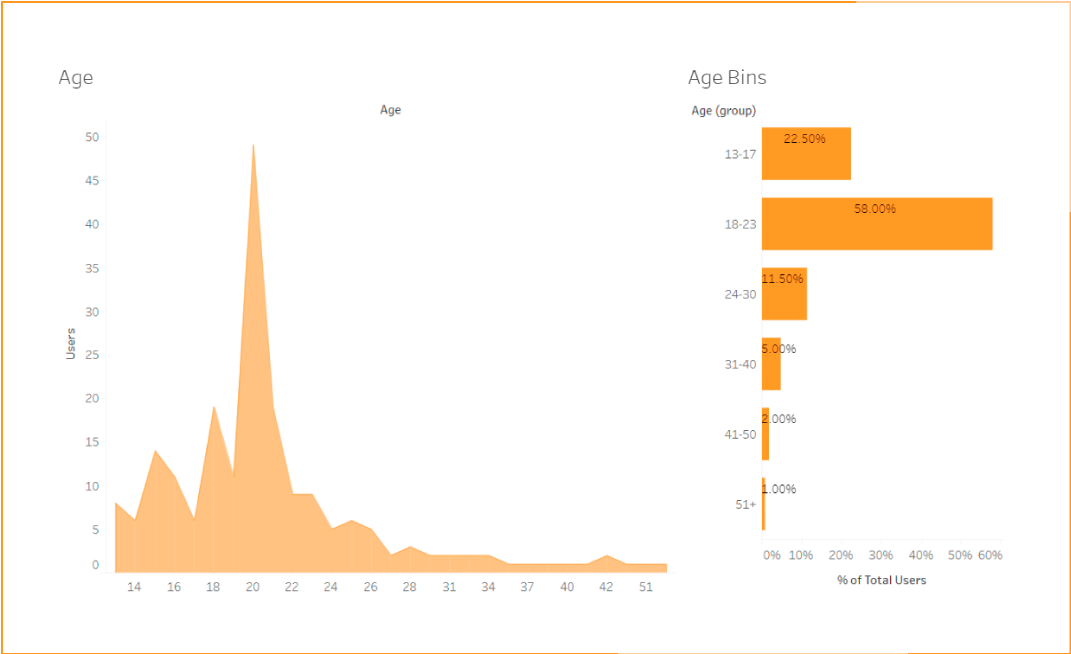 It's also interesting to see which services and games every player has linked to their user profile.
The top 5 linked services are:
PSN
Steam
Epic Games
Riot Games
Brawl stars
The 5 most linked games are:
Fortnite
Rocket League
Counter-Strike: Global Offensive
Rainbow Six Siege
League Of Legends
Fortnite, an insanely popular game in recent years, has almost double the number of links, compared to Rocket League which follows as second.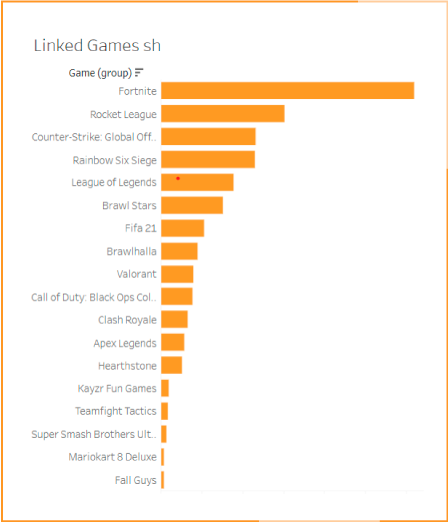 Trends & drivers
A report by global consulting leader Deloitte identified 6 current and future drivers for growth in the esports market.
#1 Increase in popularity & growing audience
Further development of the market depends heavily on popularity and the size of the esports audience. Increases in coverage led to growing awareness among the general population, which is helping esports viewership.
#2 Franchising leagues
In 2018 Riot Games announced the first franchise league in Europe. Similar to football you have global, continental, and local competitions or leagues. The European Championship of League of Legends was born. From that, a European Masters Championship arose with the best teams from Europe's many regional leagues. Localization will be a crucial factor in the future development of other esports markets.
#3 Increasing media engagement & Video-on-Demand
The fast-growing esports audience is pushing media companies and online platforms to secure rights on producing and broadcasting esports content. However, compared to traditional sports, esports is primarily driven by streaming services and Video-on-Demand. Platforms like Twitch, YouTube Gaming, and Mixer are all contributing billions of hours in eyeball time.
#4 Interactions between traditional sports & esports
Traditional sports clubs, which are often well-known brands with huge fan bases, help to accelerate the future development of the esports audience worldwide. Some clubs are creating their own esports teams. Belgian football club KRC Genk for instance now participates in FIFA and League of Legends tournaments.
#5 Mobile esports
Mobile gaming is one of the biggest segments when it comes to esports revenue, and it's still developing. Watching and streaming esports on mobile phones is not new, Twitch, for example, allows esports fans to follow tournaments and events. However, mobile competition is a recent phenomenon that could have a major impact on the market.
#6 Increasing engagement for non-endemic brands
To keep things clear, non-endemic brands create products that are not vital to the production or playing of esports. However, these types of brands like Foot Locker, Mastercard, and Mercedes-Benz are significantly increasing their engagement. It's safe to assume this trend is only just the beginning, as the esports audience will continue to grow.
Key takeaways
That's a whole lot of numbers, right? So what can we conclude from this?
The fast growth of the esports audience is boosting market entrance
Every year millions of people join the global esports audience. Franchising leagues and media coverage are only adding to the growth. With over 44% of the online population being esports-aware the market will continue to gain new enthusiasts.
Record viewership numbers are creating new opportunities for brands
With the highly engaged esports audience, sponsors can finally reach younger demographics. Billions of hours of esports or game-related content are watched every year, with some games far outweighing some traditional TV shows.
New stakeholders are boosting esports revenue growth
Viewership numbers and the size of the Esports audience are causing new bands to enter the market. Traditional sports teams and non-endemic brands are adding to the global esports revenue through sponsorship, events, and other streams. Esports revenue will surpass 1 billion in the next year.