How to get started in esports marketing? The 6 channels to kick off your campaign
Many marketers find it hard to get started in esports marketing. It's a new ecosystem that requires a new approach. In this article, we'll show how you can leverage esports marketing to boost your marketing KPI's. So let's start with the most obvious question. What is esports marketing?
Esports marketing is when you leverage the esports and gaming ecosystem to reach, engage, and convert your target audience. Advertisers take advantage of the fastest-growing segment of entertainment among digital natives to finally connect with this hard-to-reach audience.
Esports is the competitive playing of video games. Over the years it has grown from a trend to mainstream entertainment. The market is expected to reach $1 billion in global revenue by the end of this year. Today esports already attracts over 495 million yearly viewers. That's more than the following of American Football and rugby combined.
This fast-rising eyeball time makes esports marketing a very interesting strategy for both endemic brands, which create products related to esports and gaming, and non-endemic brands, which create products unrelated to the ecosystem.
Goal setting with the REC model
If you're new to the esports ecosystem, it can be daunting to find a place to start. However, with a clear goal-setting framework you can narrow down your focus and make a bigger impact. We use the REC model, which stands for reach, engage, convert. It's a great way of tracking the effectiveness of your esports marketing campaign!
Reach is all about getting views, impressions, clicks, and awareness for your brand. You want your audience to know you, to recognize you so they feel like you're a brand they can trust.
To engage digital natives you need to create truly memorable experiences, whether they're online or offline. Engagement marketing is a large part of esports marketing, as you get to connect with your audience based on a passion point of theirs. Namely, gaming and esports! Engaged customers have a higher lifetime value and are 4 times more likely to refer someone!
Finally, convert stands for converting an audience into leads or actual product sales. This is where you turn a passive visitor, into an active customer. It's literally activating your audience.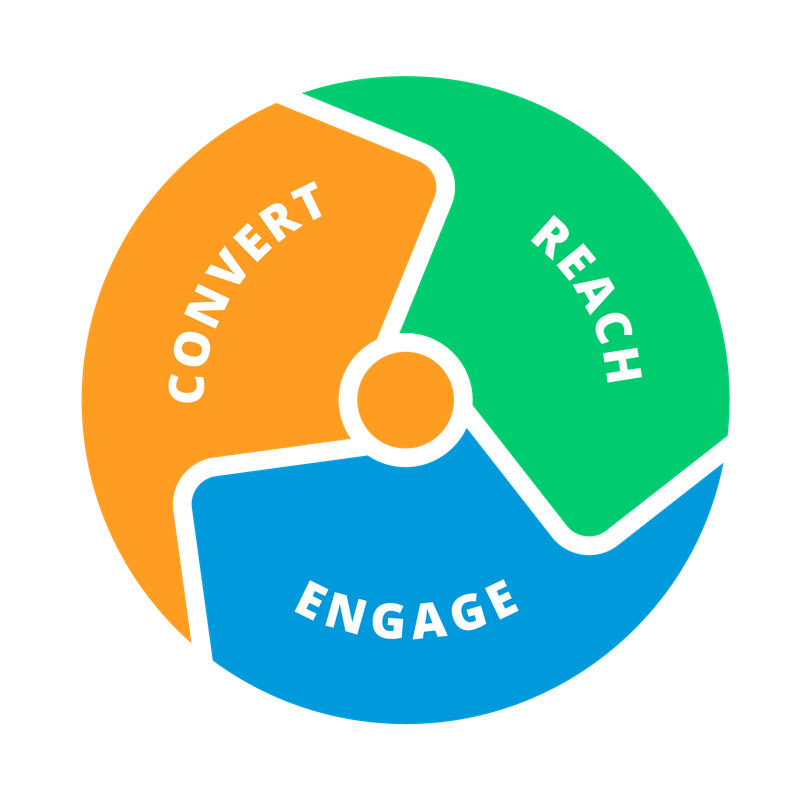 Esports strategy & consulting
There are a bunch of esports marketing services that can help you determine which approach to take to reach, engage and convert digital natives. It's all about understanding on connecting with your community. Companies like Freaks 4U Gaming and Kayzr can help you with that goal.
1. Strategy
Setting your goals and determining the right method to approach digital natives is essential. A great esports marketing strategy takes the right mix of channels and combines them into one immersive esports campaign.
2. Communication
Thinking about how to communicate with digital natives. How do you want to position yourself? Which tone of voice should you have? You don't want to copy gamer slang, just to sound cool. People will notice when you're being inauthentic.
3. Marketing research
Find out which segment in gaming is the most interesting to target. There are lots of different games, devices, and even forms of entertainment which all attract a different type of audience. Focusing on the right target group will severely influence your go-to-market strategy.
4. Content
What content works best with digital natives? How will you create the right mix that's interesting and intriguing for your audience to watch? Great content is at the heart of esports marketing. Make sure to tell a story that sticks.
5. Social media
Digital natives are a socially engaged generation. So how do you create genuinely interaction on channels like Facebook, Twitter, Instagram, and Discord in a way that promotes your brand?
6. Design
How will you create the right branding for your target audience? What assets need to be created, and how will you use those throughout your esports marketing strategy?
REC goal
Your goal is to reach, engage and convert your audience. When coming to an esports marketing agency, advertisers are looking to find the right approach to reach, engage and convert digital natives.
While it's important to remain focused on your goals and strategy, the real added value comes from the right mix of channels. Let's dive a little deeper into the 6 main esports channels through which you can reach, engage, or convert your target audience with esports marketing.
Services within the esports marketing ecosystem
1) Online competitions or activations on esports platform
An esports platform is an online environment where gamers can compete in their favorite video games. You can join communities of like-minded gamers to connect and discuss with each other. Players can win prizes for playing, and gain a ranking on a leaderboard.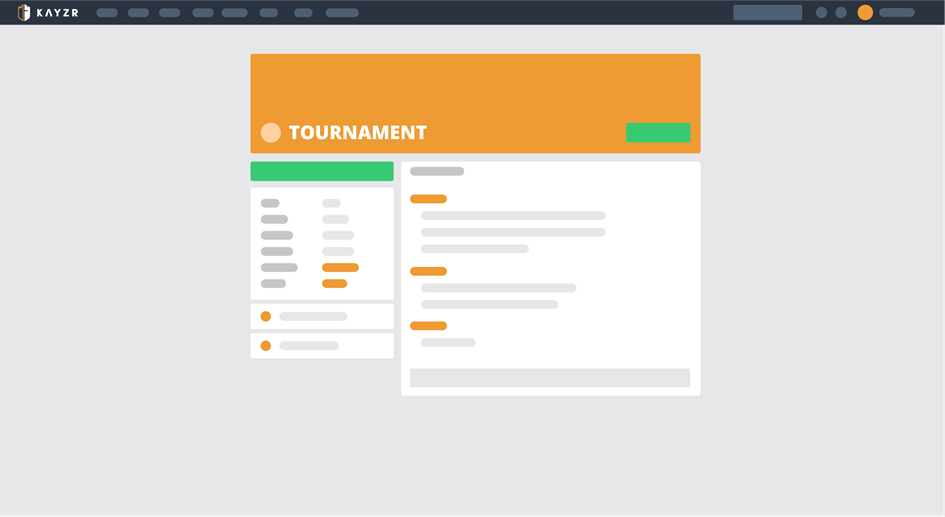 You can build your own community on the userbase of an existing esports platform like FACEIT or Kayzr, or you can set up your own through a white label tournament platform such as StriveCloud.
REC goal
The primary goal of hosting online competitions is engagement, however, you can also reach and convert your audiences through activations or sales opportunities within the platform. Advertisers want to create memorable experiences with current and new potential customers by sponsoring or advertising online competitions. They get to collect first-party data from the players and get to create a community of loyal brand ambassadors through the platform.
KPI's
Number of ad impressions and clicks
Total matches played
Net Promoter Score
Number of giveaway participants
Number of sales and leads
2) Sponsor esports content
First, there is the production of an esports league. You can sponsor existing leagues like the ESL, LEC, or the Kayzr League, as you would sponsor football leagues like the Premier League or the Belgian Pro League. On the other hand, you can also create your own custom esports League through a white-label solution.
Additionally, there is a ton of other broadcasted content related to esports. These can be talk shows like Esports Talks or podcasts like the Kayzr Talks Podcast.
REC goal
Sponsoring esports content is mainly about reaching the viewers from an already existing audience. You can also engage the audience through giveaways or other collaborations with the content creators. Advertisers want to get in front of the hard-to-reach audience of digital natives through advertising and sponsorships.
KPI's
Number of live views
Impressions
Average viewing time
3) Sponsor esports talent
Individuals within the esports ecosystem allow you to surf on an already existing following. The key to success is that the talent truly relates to your brand. They are a big part of esports marketing, and can be divided into three main categories:
Players & teams
Professional esports players like Stefano Pinna or teams such as Team Liquid or the LowLandLions are sponsored just like professional athletes are. You can sponsor teams to get on their jerseys or make sponsored content or work with individuals to promote your products.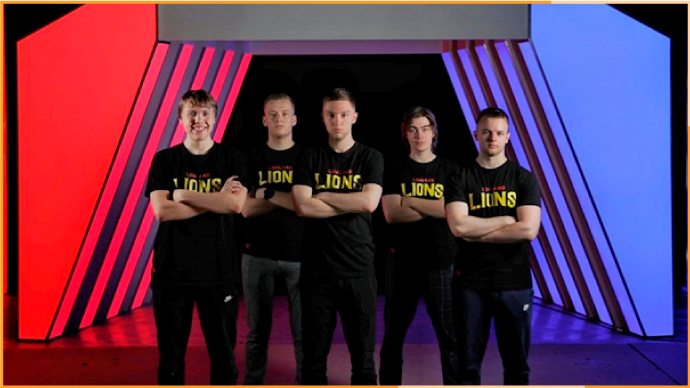 Streamers & influencers
These individuals make content around esports and gaming on channels like Facebook Gaming, Twitch, or YouTube Gaming. Personalities like Ninja or Abulic aren't necessarily the best gamers in the world but are more focused on entertainment.
Casters
These are people that host or announce esports events or provide commentary, similar to football commentators or analysts. People like Sjokz or Stijn Hapers always get the crowd hyped to watch competitions go down!
REC goal
Mainly focused on reach but can also engage or convert users through collaborative campaigns. Advertisers want to reach the fanbase of the individual or team through sponsorship. They want to link their brand to the personality they're sponsoring.
KPI's
Number of live views
Average viewing time
Impressions and reach
Post engagement
4) Offline events or activations
While most people think of esports as something that's entirely online, a big part of esports marketing is offline events or activations. It's a place where fans get to meet each other and their favorite stars, as well as see the world of games come to life.
Check out in which ways you can use these activations for esports marketing:
Trade fairs, exhibitions & festivals
These are events like Gamescom or Gameforce where you can rent a booth or sponsor the event in itself. It's interesting for both endemic and non-endemic brands, as long as it's relevant to the target audience.
Stage booth
A stage booth is when you get to be on-stage instead of having a regular stand. This is usually because you provide some sort of entertainment, to begin with. Kayzr has a stage booth at Facts, a twice-a-year comic convention in Belgium where people could watch live esports competitions.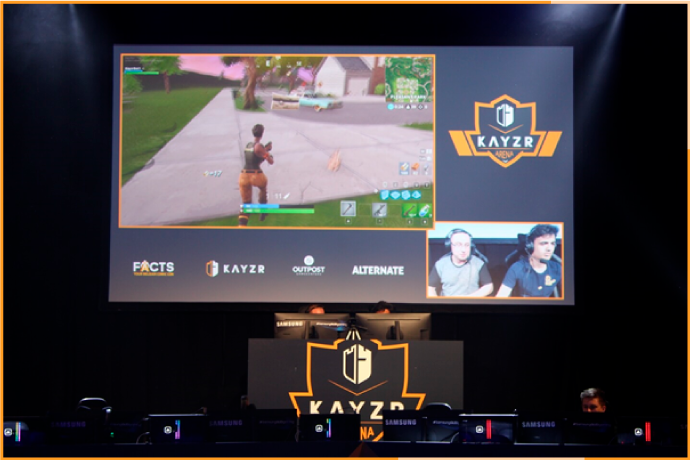 Pop up stores
A great way to activate audiences across the world is through pop-up stores. Home of esports did this with their container pop-up store, as well as Fnatic who opened BUNKR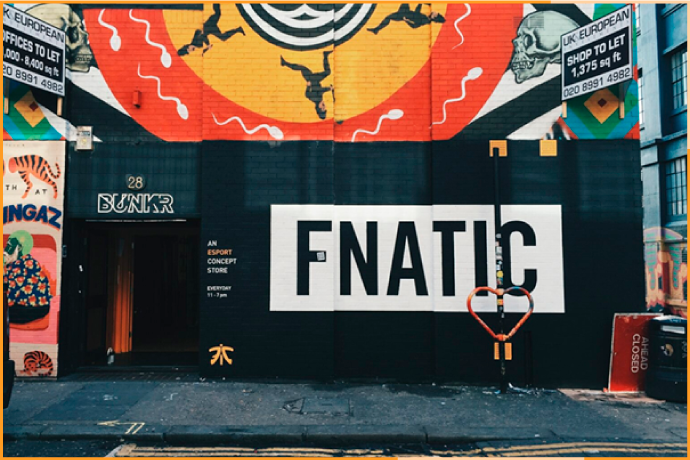 Booth concept
META creates booth concepts for some of the greatest esports teams in Europe. Teams like G2 rely on them for their entire European esports marketing event strategy.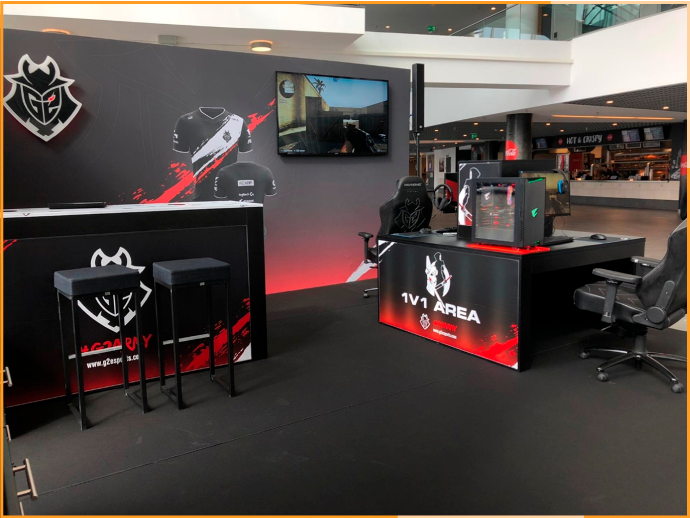 Studio
An esports studio is similar to a news studio, in that it's built to produce high-quality content. The esports Campus in Amsterdam has H20, a studio where gamers can stream with all the necessary tech available. Belgian football clubs KRC Genk and Charleroi also have their own esports studio.
Venue
An esports venue is an event location like Rotterdam Ahoy where esports events or tournaments are organized. Every year there is DreamHack in Rotterdam, one of the biggest esports events in the world.
Gaming center
These are places like Outpost which organize tournaments in different games so players can hone their skills and try to go pro.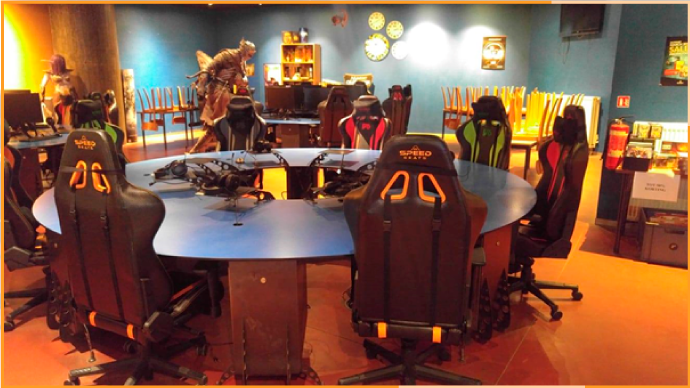 LAN
LAN stands for local area network. Places like FOM or 666 have a collection of devices connected in one physical location.
REC Goal
The goal here is mainly engagement. You want to embed your brand in the esports community. Sometimes, you can also make direct product sales at the event. The goal is to engage with the fanbase by letting them experience your product. This can either be for endemic and non-endemic brands.
KPI's
Number of visitors
Net Promotor Score
5) Media
Another essential factor in the rising viewership of esports is media. It's also a great space for advertisers to reach digital natives and create fun activation campaigns that suit the– medium.
Esports websites
Websites like Dextero and esports Insider that cover news on esports tournaments, teams, sponsorship deals, and more.
Gaming websites
Websites like IGN and ESPN cover the latest news on games and everything related to games.
VOD & Live streaming
These are video-on-demand platforms where creators can stream or publish videos of their gaming such as Twitch, YouTube Gaming, or Facebook Gaming. Platforms like this are extremely popular and generate billions of hours of watching time in esports.
REC Goal
This esports marketing strategy is mostly focused on reach but can also lead to conversions if you put together the right campaign. Advertisers want to reach digital natives, either for branding and awareness or performance marketing.
KPI's
Impressions
Clicks
Conversions
Number of sales and leads
6) Merchandise
Merchandising is a well-known practice in esports teams or individuals, just like it is in traditional sports. We see branded products such as clothes, gaming gear, and more.
It's the third-largest revenue stream in esports because of its impact on brand value. You can either sell merchandise or use it to build positive sentiment through giveaways. Companies like We are Nations and Manatee specialize in creating merchandise for esports marketing.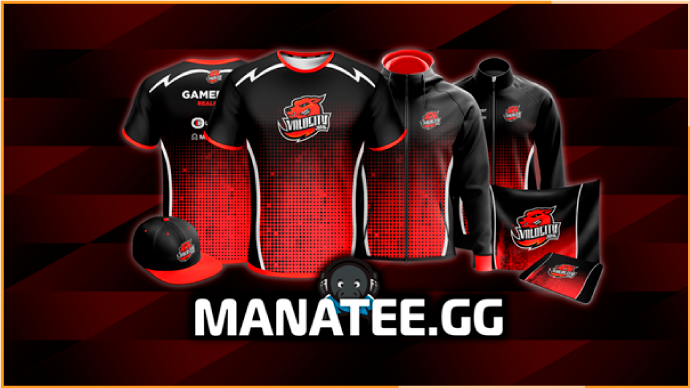 REC goal
Depending on the esports marketing strategy you use, you can engage and convert people with the merchandise. Engagement will be focused on giveaways or other activations, while convert is about direct product sales. The advertiser wants to create a community of loyal ambassadors. By having people walk around with branded clothing your brand
KPI's
Number of giveaway participants
Conversion rate
Number of sales and leads
Recap
So, you want to get started in esports marketing, but don't know where to start? The esports ecosystem is a place with lots of opportunities for both endemic and non-endemic brands.
Before you dive into channels and techniques, determine the right strategy, content, and approach through esports marketing services. Here's a quick overview of the 6 esports marketing techniques you can use:
Online competitions or activations on an existing, or white-label esports platform.
Sponsor esports content such as a League or other broadcasted content.
Sponsor individuals like professional gamers, teams, streamers, and casters.
Activate your audience through offline events or activations?
Use the esports media ecosystem to reach and convert your audience.
Create and sell merchandise to increase your brand value.
Make sure to always link back your goals to the REC model, which stands for reach, engage and convert. Measure the impact of your esports campaigns and adjust to get even better results. If you would like some professional help to set up a 360° esports marketing campaign, feel free to reach out to Kayzr!