How these 5 innovative brands organized remarkable esports campaigns
The esports audience is rapidly growing across the world. With local esports ecosystems arising, more brands are discovering the potential of esports marketing for reaching younger audiences. Sponsoring the esports industry is more than making a payment and slapping your logo on something. Whether you join as an endemic or a non-endemic sponsor, to truly engage the esports audience you need to become a part of the community.
As the market is maturing we've seen some well-respected brands get into esports marketing with success. In this article, we'll cover 5 examples of brands that have immersed themselves in the world of esports.
Here's what you'll read:
BMW sponsors the best esports teams in the world
HyperX Heroes have ambassadors on every continent
KRC Genk is breaking into esports beyond FIFA
Proximus Epic invested in their Kayzr'esports platform
Samsungs' Game Off esports campaign
BMW sponsors the best esports teams in the world
Automotive company BMW is partnering up with five of the best esports teams across the world. After an initial partnership with Cloud9, they are now also sponsoring Fnatic, FunPlus, Phoenix, G2 Esports, and T1.
BMW is a non-endemic brand that wants to use its design and innovation skills to help shape esports as a discipline. As part of the deal, the esports teams will create content activations on social media as well as a jersey sponsorship. The teams get to co-create content with BMW to test their reaction speed or to go racing for real.
As the sponsor of the top 5 esports teams, BMW created an esports campaign called united in rivalry. The car company positions itself as a partner of the best teams in the world and doesn't shy away from a little mutual competition.
"Our esports involvement is an important milestone providing, for the first time, new intersectionality with a dynamic and fast-growing community. We consider esports a promising, growing addition to our marketing activities." – Jens Thiemer, Senior Vice President Consumer and Brand @BMW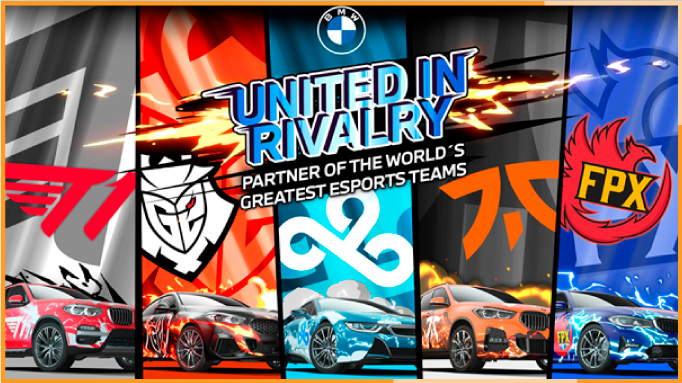 BMW will also provide vehicles to transport the teams to and from events. Esports Insider states it's clear that BMW is interested in esports and its target audience. After a few first endeavors, the company keeps expanding its involvement in esports. Local BMW divisions are adding local sponsorships as well. The BMW Group Belux for instance closed a sponsorship deal with Sector One, the best esports team in Belgium.
HyperX Heroes have ambassadors in every continent
HyperX sells headsets, keyboards, and other gaming hardware. As an endemic brand, their sponsorship in esports is critical to reaching their core audience. In 2020 the company added 25 influencers and esports professionals to its ambassador program 'HyperX Heroes'.
One of these personalities is Rachell Hofstetter, better known as Valkyrae. She is a popular streamer on YouTube Gaming who became one of the fastest-growing streamers with a peak of 123K viewers. Other ambassadors include League of Legends player Kim Hyuk-gyu and YouTuber Lachlan.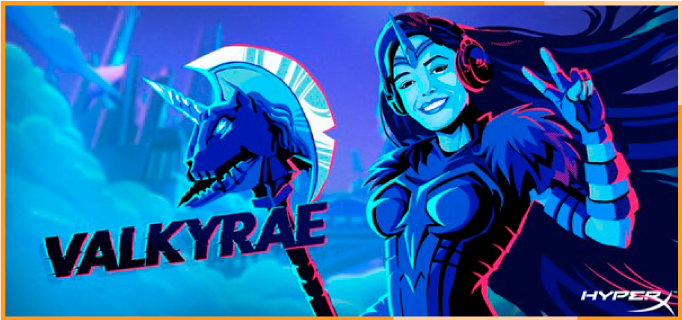 The ambassador program originally started out with the WE'RE ALL GAMERS campaign that connected well-known personalities from around the world through their passion for gaming. HyperX is now adding influencers and streamers from Asia, Australia, and Latin America to expand global reach.
"What started out as the initial introduction of the WE'RE ALL GAMERS, has grown to become a worldwide HyperX Heroes program, uniting popular streamers, content creators, celebrities, esports stars, and well-known athletes through their passion for gaming." – Daniel Kelley, director of corporate marketing @HyperX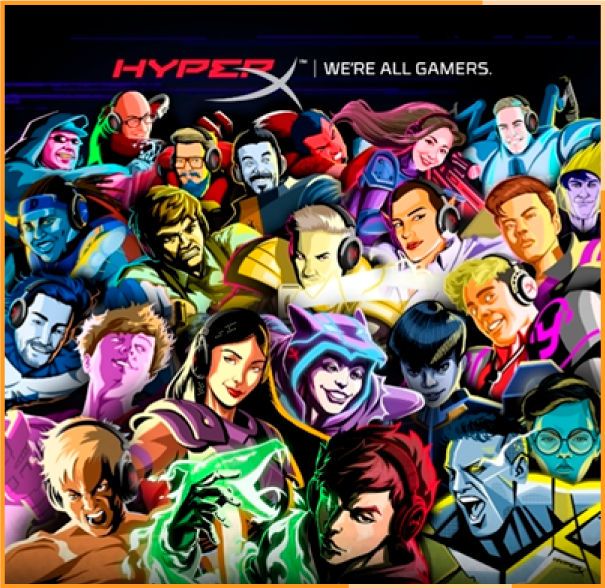 KRC Genk is breaking into esports beyond FIFA
Belgian football club KRC Genk is taking on the world of esports with their very own esports division. It started out with FIFA tournaments, however, their esports arena allows for the next steps in their esports strategy. The club is looking to take on other games and now has its eyes on the League of Legends title.
"KRC Genk esports is leading in Belgium. That is why the step to League of Legends is a logical and strategic next step. The Belgian LoL competition will be given a new composition and will soon evolve into a closed formula, and KRC Genk Esports will not be missing." – Bram Bartels, esports coordinator @KRC Genk
The Belgian football club has acquired one of the six spots in the Belgium League to compete over a prize pool of 25,000 euros. Other teams that will compete are football club KV Mechelen Esports and other professional esports teams Sector One, Team 7AM, 4Elements Esports, and ION Squad.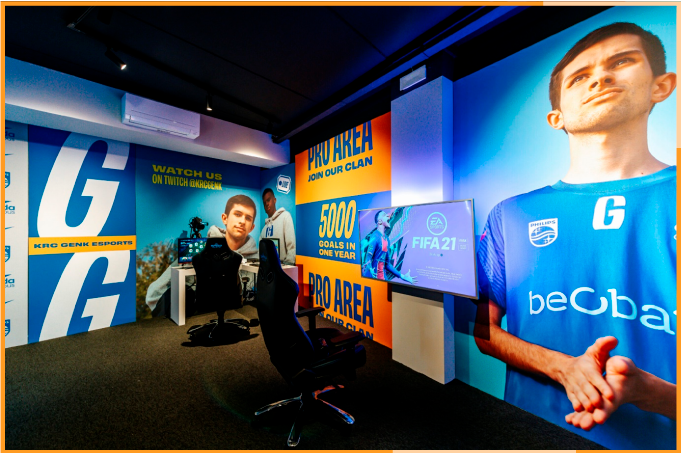 It's going to be interesting to see football clubs break into esports outside of the FIFA bubble. PSV and KV Mechelen are also taking their talents to League of Legends, while eClub Brugge is giving CS:GO a shot.
Proximus Epic invested in Kayzr's esports platform
Proximus is a Belgian telecom brand and a non-endemic sponsor in the esports world. They have invested in their own esports platform, which they use to host tournaments among fans & do epic showdowns with influencers and professional players.
The league of influencers
Together with influencer platform Adshot and Kayzr's tournament platform, the telecom brand organized the Call of Duty: Warzone league for influencers. Belgian and Dutch streamers challenged each other live on Twitch. Fans were able to join in as well, and battle against their favorite streamers.
Leading up to this event were several month-long tournaments in Fortnite, Brawl Stars, and Rocket League. Fans could compete over prizes aligned with Proximus' telecom services such as iPhones, gaming gear, and more.
Kayzr stated on the event – "Impressions alone are no longer enough, being able to directly engage people and have them interact with your brand is the way forward! This tournament achieves exactly that!"
Average Rob's Fortnite challenge
Another esports marketing campaign by Proximus, in cooperation with endemic sponsors Qallo, an esports nutrition brand, and hardware distributor Alternate is an epic showdown with Belgian media personalities Average Rob and his brother Arno the Kid.
The event takes place on the Kayzr esports platform, where fans can compete against the two influencers over a €1000 prize pool. Anyone that participates in the social media campaign linked to the event, will also enter a raffle for the newest Oneplus.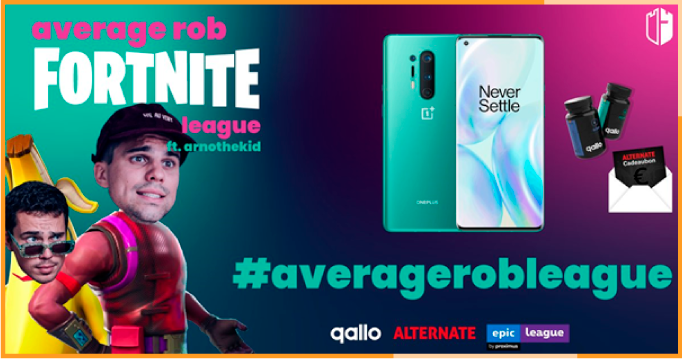 "I actually play daily myself and grew up playing video games. It used to be mostly Runescape, Halo, and Fable. These days I mostly play Fortnite. When Kayzr asked me if we could collaborate on a league, I didn't hesitate for a second. Let's go!" – Average Rob
At its peak, the event had over 1000 concurrent viewers of which 162 people participated. As a result, 1402 matches were played over the course of just 4 hours. Talk about leveraging personalities to create better fan experiences.
Samsung's Game off esports campaign
This mobile and technology company is an endemic sponsor in esports. Their esports marketing strategy is centered around VOD platforms and local influencers. One of the campaigns they did in the Benelux was a Game Off between Belgian and Dutch game personalities.
In team Belgium, we have comedian and gameshow host William Boeva, together with influencer and streamer Abulic.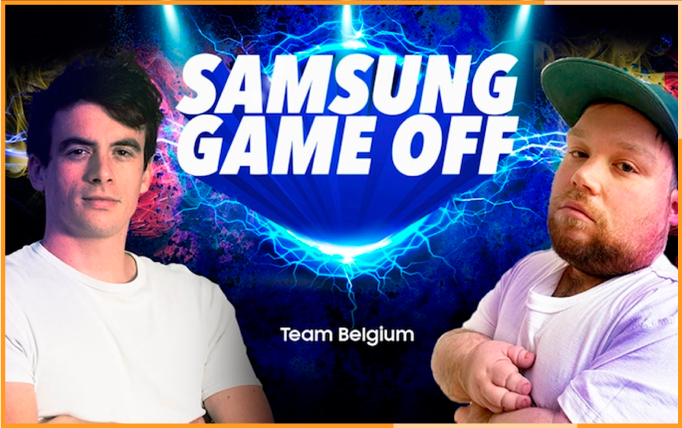 Team Netherlands exists out of YouTuber Ronald with 800K subscribers and the best female streamer in 2020 Puxque.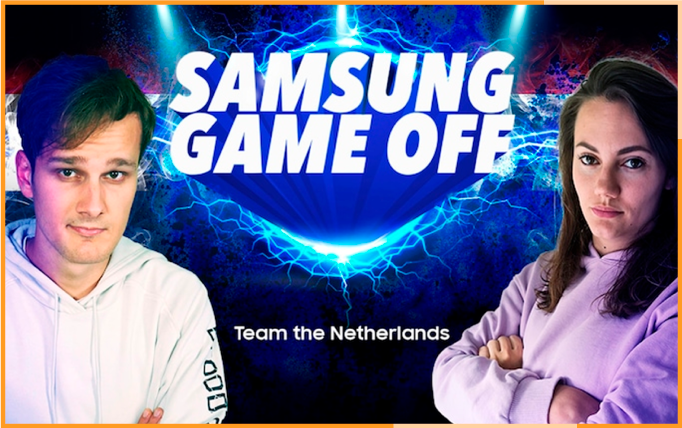 Together, the four held the Samsung Game Off to decide who's best once and for all! The Game Off existed out of multiple rounds, in which they competed in a game on one of Samsung's latest devices.
In the first round, the gamers raced each other in Trials Rising on the Galaxy S21. Next, they switched to the QLED Gaming Monitor to play Gang Beasts. To lock in the ultimate victory in Samsung Game Off, the two teams will compete in the fighting game Destruction Allstars.
Fans can enjoy commentary from two of the most popular esports commentators in the Benelux. EgbertLive who won the best male streamer of 2020 joined Timon who has a gaming podcast with a very close fanbase.
If that's not enough, fans could win a free gaming setup by Samsung if they found the secret code on-screen during the live stream.
Recap
As you can see brands from all around the world are finding creative ways to get into esports. We are seeing sports clubs, endemic and non-endemic brands make sponsorship deals with influencers, esports teams, and even leagues both locally and internationally. The future of esports marketing is bright, as more fans are joining every day to turn esports into the next big mainstream sports discipline.