How to get started in esports – here's what you need to know!
While online media and digital advertising make it easier to specifically target your audience, they bring some new challenges for marketers as well. As a brand, you have to compete with over 5,000 ads that are displayed to your audience every day, of which they only positively remember less than 20%. Let's face it. Digital natives are a hard-to-reach audience. Why? Digital natives don't want to be advertised to, as 'it ruins their online experience'.
75% of digital natives already have an ad blocker installed. Besides, your ad is just one swipe away from being forgotten. Generation Z is even worse, with 82% skipping all ads as fast as they can. If you want to reach millennials, you need to connect with them on a deeper level.
That's where esports comes into play! Esports opens up a door for brands to authentically engage with their younger target audience. Over the years esports has grown in popularity and is now a fully matured market for brands to invest in both globally and locally.
So, how do you get started? Or even more important, what is esports exactly?
Here's a quick overview of what we will break down for you in this article:
What is esports?
The rise of esports – A short history
Who is involved in esports?
Why should you invest in esports?
How to get started in the esports market?
🔎 What is esports?
Esports is the competitive playing of video games. The difference between gaming and esports is the player's end goal. Gaming is something you do for your own entertainment. It doesn't matter whether you win or lose, as long as you have fun playing.
Esports however is a spectator sport. Many people across the world come to see esports tournaments live, while others follow the action online. With these competitions comes a whole ecosystem of sponsors, professional esports teams, players, tournament platforms & event organizers.
Esports tournaments often take place in physical locations where thousands of fans can watch the competition live. Similar to the Champions League there are lots of sponsors and partners that help make these events come to life.
In fact, a big strength of the esports industry is its powerful engagement marketing. Sponsors are not just here for awareness, but to become a genuine part of the event and the community behind it.
Proximus for instance hosts the Epic League on Kayzr where users can compete against each other and earn Epic Coins. These coins can be traded for Proximus products and services in their Kayzr shop.
Types of games
All video games played in professional esports competitions usually fall into one of the following categories. Some of these games are designed with esports in mind so that they're more fun and engaging to watch. The gaming experience will also vary based on which device you're playing on PC, console, or mobile?
First-person shooter
One of the most popular video game genres focused on gun and weapon-based combat in a first-person perspective. Some of the most popular games in the world belong to this category, such as Counter-Strike, Call of Duty, and Overwatch.
Multiplayer online battle arena
Also called MOBA's, are action real-time strategy games. In this type of game two or more teams of players compete against each other on a pre-determined battlefield. Each player gets to control one character with a set of unique abilities. League of Legends is probably the most well-known example, followed by Dota.
Battle Royal
This is an online multiplayer genre that combines survival, exploration, and scavenger elements. You win the game by being the last survivor. Examples of these games are Fortnite, Warzone, and Fall Guys, which have become one of the latest trends in gaming.
Fighter games
These are competitive one-on-one fighting matches with fixed boundaries. The characters in the game fight until one of the opponents runs out of energy or time. Games like Tekken, Street Fighter, and Mortal Kombat fall into this category.
Sports games
Video games that are modeled after real-life sports or sports management belong to this category. These are very popular among sports fans. Examples here are FIFA, NBA2K, or Football Manager. Many owners of traditional sports teams see this as a great opportunity to re-engage with digital natives.
🎮 The rise of esports – A short history 🎮
How did it all start?
On 19 October 1972, some students at Stanford organized the first known esports event in history. They competed in Spacewar!, one of the first computer games ever invented. So, in a way esports is almost as old as video games themselves. However, it took a few more years for the market to develop.
Throughout the '80s video games were popularized through game Arcades. Space Invaders was the first game to introduce high scores for all players. In 1980 video game publisher Atari organized a Space Invaders Championship, attracting over 10,000 participants in the US.
It was in the '90s that the fighting game Street Fighter introduced the concept of direct competition between two players. Before that, competitions relied on high scores only to determine the best player. In 1997 the Cyberathlete Professional League (CPL) was founded. Games like Counter-Strike and Warcraft were now having official esports tournaments.
Becoming a global industry
In the 2000s esports got kicked into orbit. In South Korea tournaments for StarCraft and Warcraft were televised regularly. TV channels in Germany and France swiftly followed. Esports teams from across the globe were gathering together to lay the foundations of the esports industry today.
During the 2010s online streaming services like Twitch helped raise the viewership numbers in esports and gaming. What started out as a geeky trend, now became mainstream among digital natives and a highly interesting market for sponsors.
In 2013 the World Championship of League of Legends sold out the entire Staples Center. To put that in perspective, the NBA finals and Grammys are held here. Two years later, in 2015 the same championship got over 32 million viewers, which was 9 million viewers more than the NBA finals.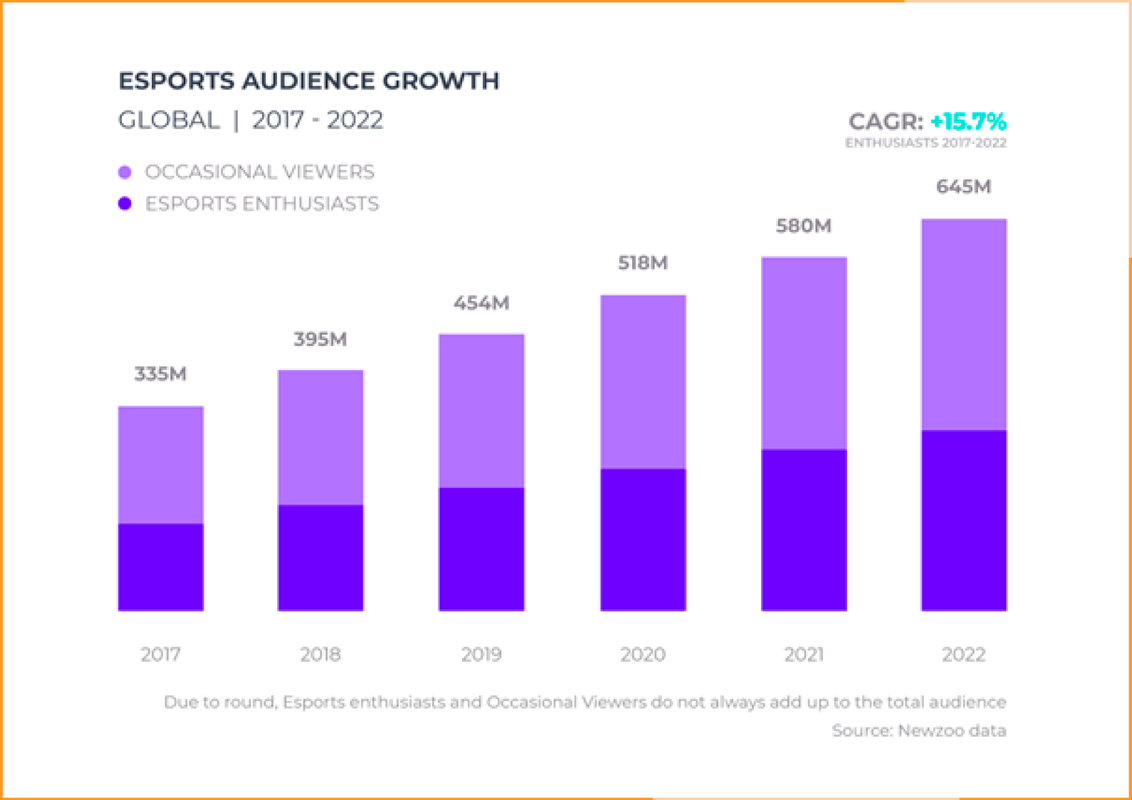 Since then, esports started to gain trust from sponsors and the mainstream media. Numbers don't lie. In 2018 the esports market crossed the 1 billion dollar valuation mark. Research by consulting firm Deloitte shows the industry is expected to keep growing at a fast pace, to eventually join the big leagues of traditional sports and media.
In 2020 COVID-19 was responsible for lots of canceled live esports tournaments. However, streaming services like Twitch and YouTube Gaming clocked in over 27 billion live hours of eyeball time. YouTube went on to mention gaming content made up 100 billion hours of their platform.
👥 Who is involved in esports?
First of all, you have the digital natives. These are people who grew up in the digital age, including Millennials and Generation Z. In contrast to the belief that all gamers or esports fans are young males, the esports audience is actually quite diverse.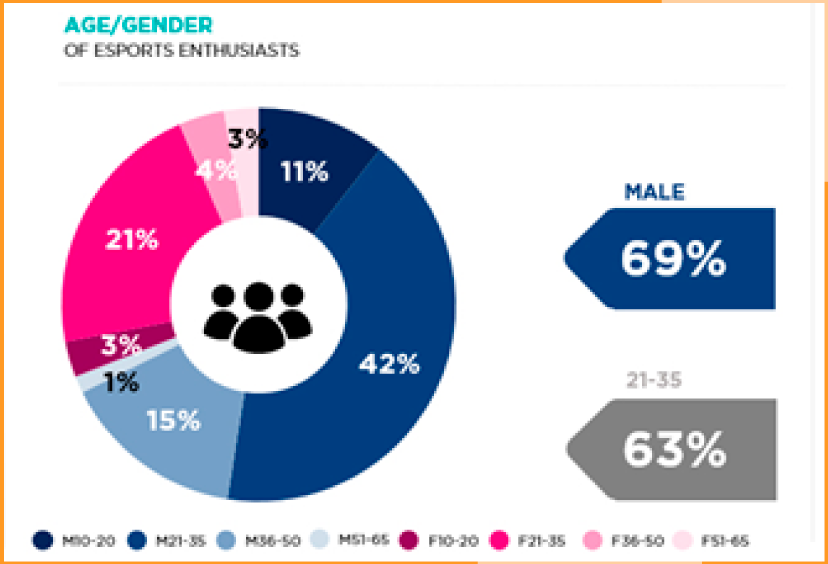 Besides digital natives, there are lots of other parties that make esports possible.
It starts with game publishers like Ubisoft that repeatedly design, develop and launch video games for the general public to play. Besides them, there are online tournament platforms like ESL or Kayzr and offline competitions such as Dreamhack that set up professional tournaments and leagues on a local or global level.
Now you still need players. There are professional gamers that make their living by playing video games. Often their income comes from a combination of sponsorships, tournaments, and merchandise. Pro players can play individually or in a team. It mostly depends on the game they play.
You also have non-professional gamers, who play games for their own entertainment. You can separate these into two main personas. The first is a casual gamer, who plays mainstream games on an irregular basis, like Candy Crush or Grand Theft Auto because it fits within their life rhythm.
Secondly, you have hardcore gamers who are highly dedicated and engaged to advance levels in games like League of Legends or World of Warcraft. On average hardcore gamers spent up to 20 hours/week playing games, and another 45 hours on video-game related activities. That's 1,5 times more than a full-time job!
It's mainly due to streaming platforms like Twitch or YouTube Gaming on which tournaments can be streamed that the esports viewership has grown so much. Parties such as influencers or game-focused media often make use of these platforms to amplify the reach they currently have. One of these influencers is David Martinez, also known as "TheGrefg", who broke the twitch record for most concurrent viewers with over 2.4 million people watching.
Lastly, you have the brands or sponsors that allow for cool brand activations and prize pools worth millions of dollars. You can divide these brands into two main categories. Endemic and non-endemic brands.
Endemic brands create products or services that are directly related to the esports or gaming industry. Examples here could be hardware such as headphones or a gaming console. A great example is Steelseries who sponsors FazeClan, one of the most popular esports teams in the world. Other brands are JBL or Game Mania.
Non-endemic brands don't have a direct link with the esports market, however, they can still boost their bond with digital natives through esports marketing. Examples here would be Red Bull or Mastercard.
📈 Why should you invest in esports?
Digital natives are an interesting target group to focus on. Soon they will become the primary workforce and be responsible for the largest part of the economy. Esports marketing allows you to get in front of this audience and truly engage with them.
Why would you want to reach this audience? Digital natives are tech-savvy early adopters. They are socially engaged, highly educated, and extremely brand loyal once they find a brand to identify with.
Unfortunately, they are also hard-to-reach. Digital natives need an authentic and interactive approach. They want to be heard, not sold.
The digital natives are also highly engaged. In 2020 over 1116 billion minutes of esports were watched. That's up 69% from 660 billion minutes in 2019.
Don't forget every game has a specific audience that needs to be approached differently. There are casual gamers and hardcore gamers. Just like there are occasional esports viewers and highly engaged esports enthusiasts.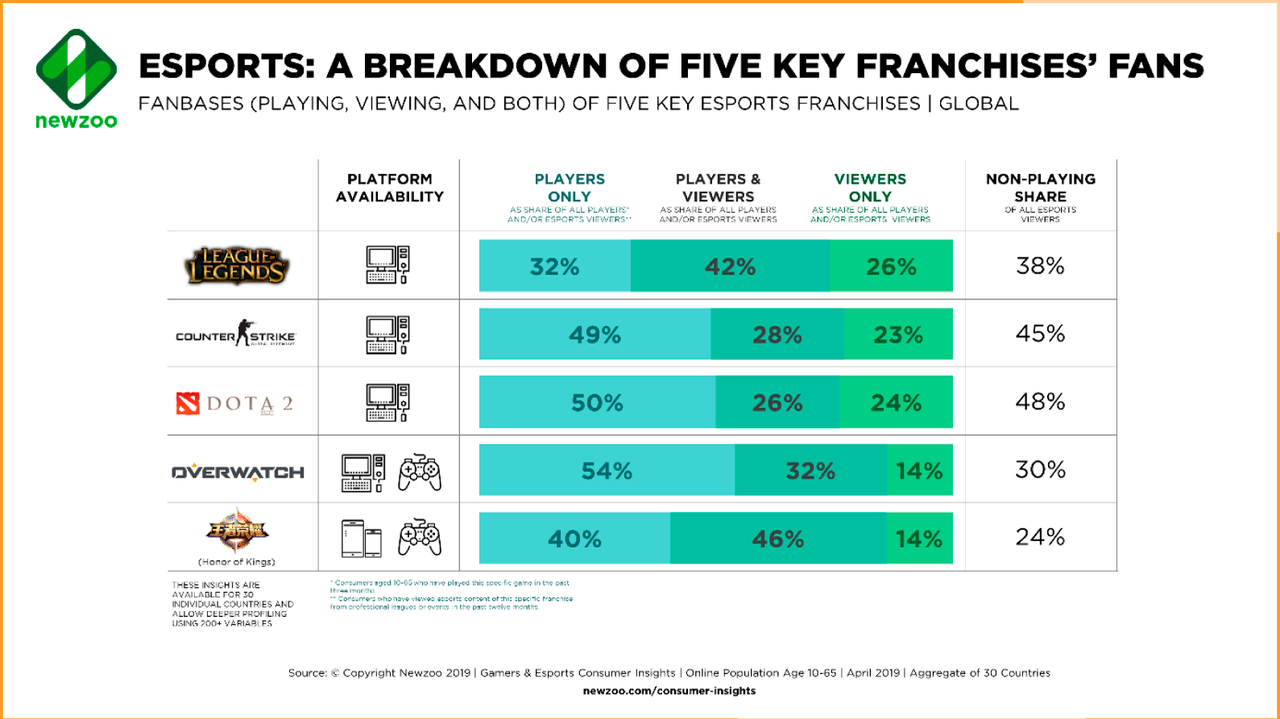 Let's zoom in on the three biggest esports games in China, where they're trying to be the gaming center of the world. Among their audience, we see a range of different ages, genders, and interests. That's why you can't just copy-paste one esports campaign into another game. Take this into account when setting up your esports marketing strategy!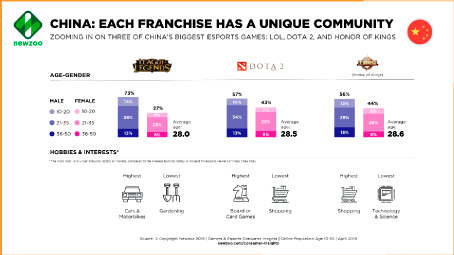 Join our newsletter to keep up with the latest esports trends!
🚀 How to get started in the esports market?
There are lots of revenue opportunities in the esports industry. The largest revenue chunk comes from sponsorships and advertisements geared to esports marketing. Esports also benefits from media rights, merchandise & ticket sales, game publisher fees, and more.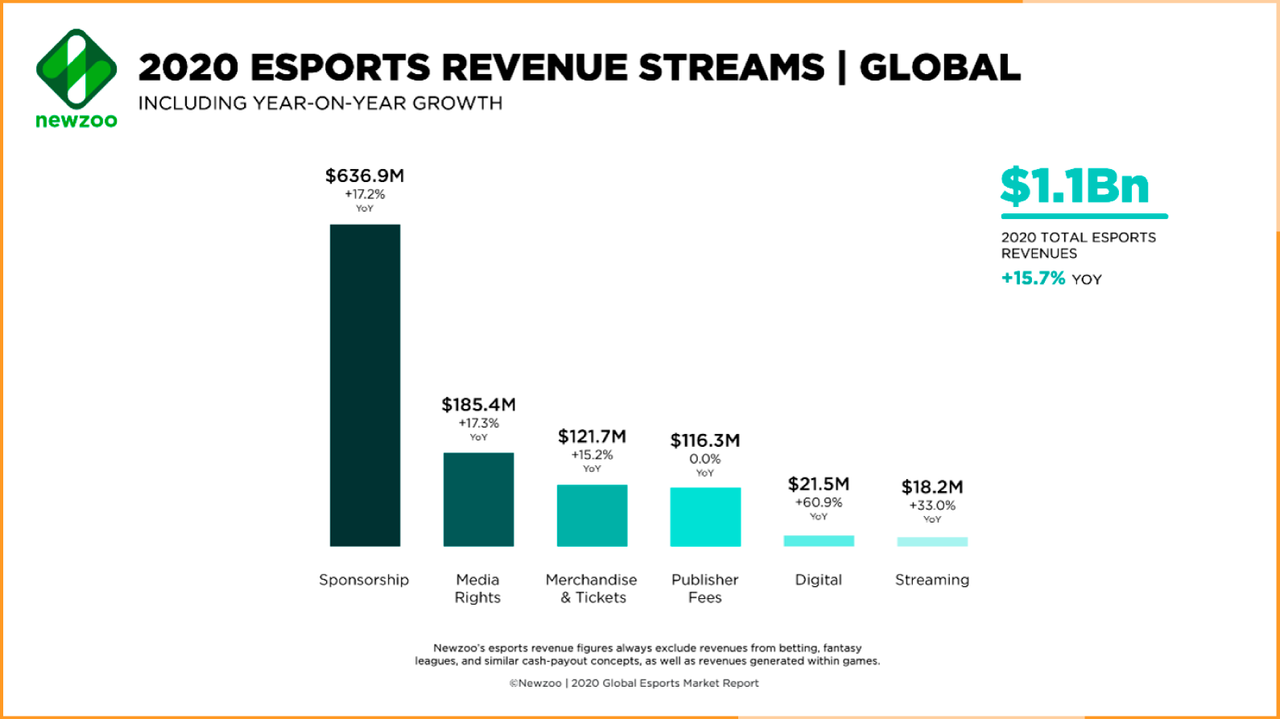 So far, esports is a truly global phenomenon. There are fans and players on every continent. Still, there are lots of local esports platforms and events as well. It's similar to the football Pro League in Belgium and the Champions League in Europe.
What is Kayzr & how does it help your esports journey?
One of those local esports platforms is Kayzr, the largest esports community in the Benelux. With approximately 100.000 users on its platform, Kayzr connects brands with the hard-to-reach digital natives on their platform through esports marketing.
After gaining 5 years of expertise in the market, Kayzr offers a range of solutions to better position your brand in the esports market:
Native advertising
Promote your brand on Kayzr's platform, in the Kayzr League & on Kayzr TV. You can create data-driven & personalized campaigns to put in front of our digital natives' audience. Native ads show an average 18% uplift in purchase intent and have almost 9 times higher click-through rates.
Experience & engagement marketing
Besides visibility, Kayzr helps brands with engagement marketing campaigns. They will help you become a genuine part of the Kayzr esports ecosystem through custom branded tournaments, spaces, webshop integration, and much more. Here you get to be more than just an ad and build genuine connections with your target audience.
360 degree consulting
After more than 5 years in the esports industry, the Kayzr team has gathered a ton of expertise. Whatever your esports or gaming challenge is, Kayzr will help you tackle it! Do you want to create your own online activation? Or perhaps you'd like to organize your own esports tournament? Kayzr has you covered!
Key takeaways
The esports market is booming, and now is the time to get in. Over the years the esports audience has grown with more digital natives joining the trend every day. Additionally, they are one of the most engaged audiences with over 45 hours being spent on gaming or game-related activities every week!
This opens up a whole new opportunity for brands who want to get in front of these hard-to-reach younger generations. Both millennials and Generation Z'ers are anti-advertising. However, native ads and immersive sponsorships seem to be no problem. In fact, esports fans will actively support brands that contribute to the esports market.
So how do you build a strategy? Discover the different types of games and the differences in esports audiences. With both global and local interest in gaming, esports platforms like Kayzr get to connect brands with digital natives without disrupting their experience.