Use Case: How Proximus leveraged gaming content on Kayzr TV
Proximus is a Belgian internet, phone, mobile, and TV provider. With their Proximus Epic subscription, they are targeting digital natives with solutions tailored to them. What they found, however, is that reaching digital natives requires a different approach.
Luckily, the fast-growing esports and gaming community brings new opportunities for brands to get in front of a hard-to-reach audiences. With this in mind, Proximus decided to partner up with Kayzr, the largest esports platform in the Benelux with 5+ years of expertise, to launch their own esports campaign.
Millions of page views, hundreds of thousands of video views, and over 625 full days of playing matches in the Epic League later, it's safe to call this esports campaign a success.
Here's what we'll cover:
Breaking into the Belgian esports & gaming community with Kayzr
How Proximus leveraged gaming content on Kayzr TV
Partnering up with influencers to create the Average Rob League
Getting into the Belgian esports & gaming community with Kayzr
Kayzr is the largest esports platform in the Benelux with over 100,000 users. Every month thousands of digital natives compete in their favorite games, connect via the social feed and buy rewards with Kayzr coins they've earned. It's the perfect place for brands like Proximus to organize an immersive esports campaign.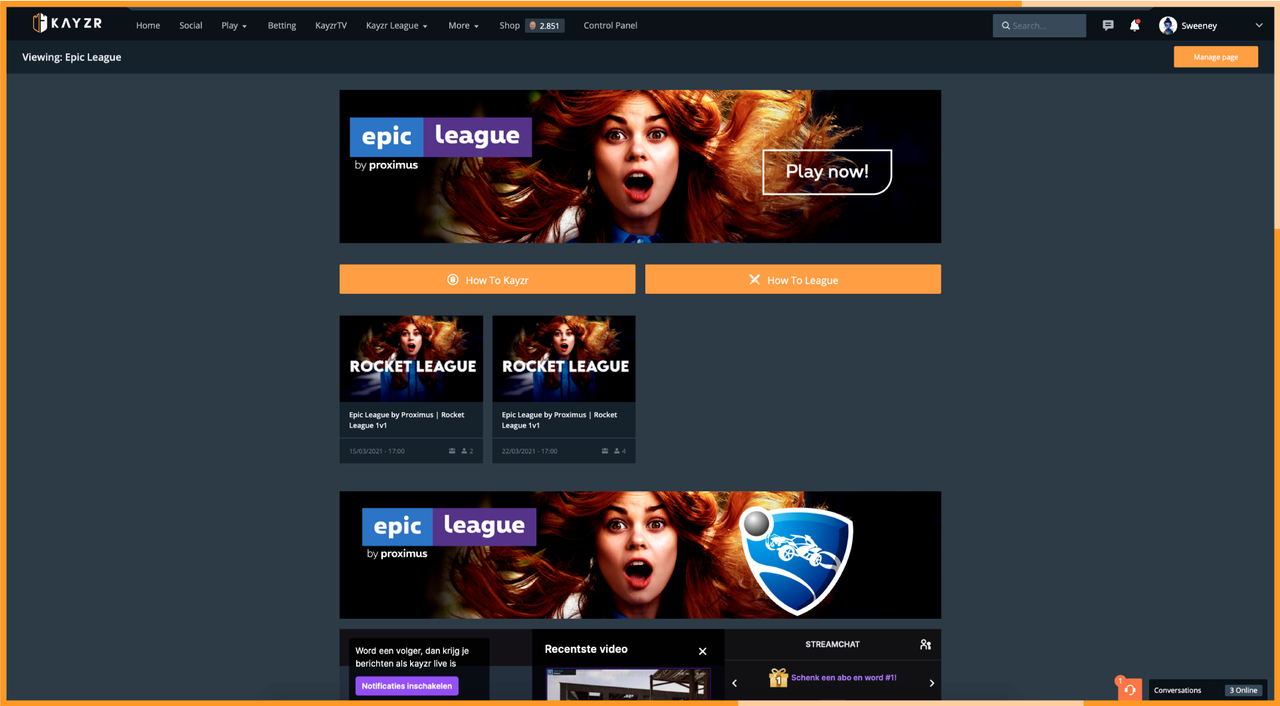 The Kayzr platform brings a range of solutions for native advertising and engagement marketing. Partners can host their own tournaments, get visibility throughout the Kayzr ecosystem and create a ton of branded content around esports & gaming!
Breaking through with native advertising
Let's start out with the obvious question here. Why do you need native advertising? Well, with new media come new challenges. Today's consumers don't want to be interrupted, they want an authentic approach where there is room for two-way communication.
The Kayzr ecosystem has a ton of native advertising options to reach the gamers and esports enthusiasts of their platform. Proximus Epic for instance got their own branded landing page as well as a ton of visibility in the form of banners on the homepage and social feed, videos in the waiting screens, and partner news articles.
However, native advertising does more than boosting awareness. Proximus also displayed its products in the Kayzr shop, leading to direct conversions and sales.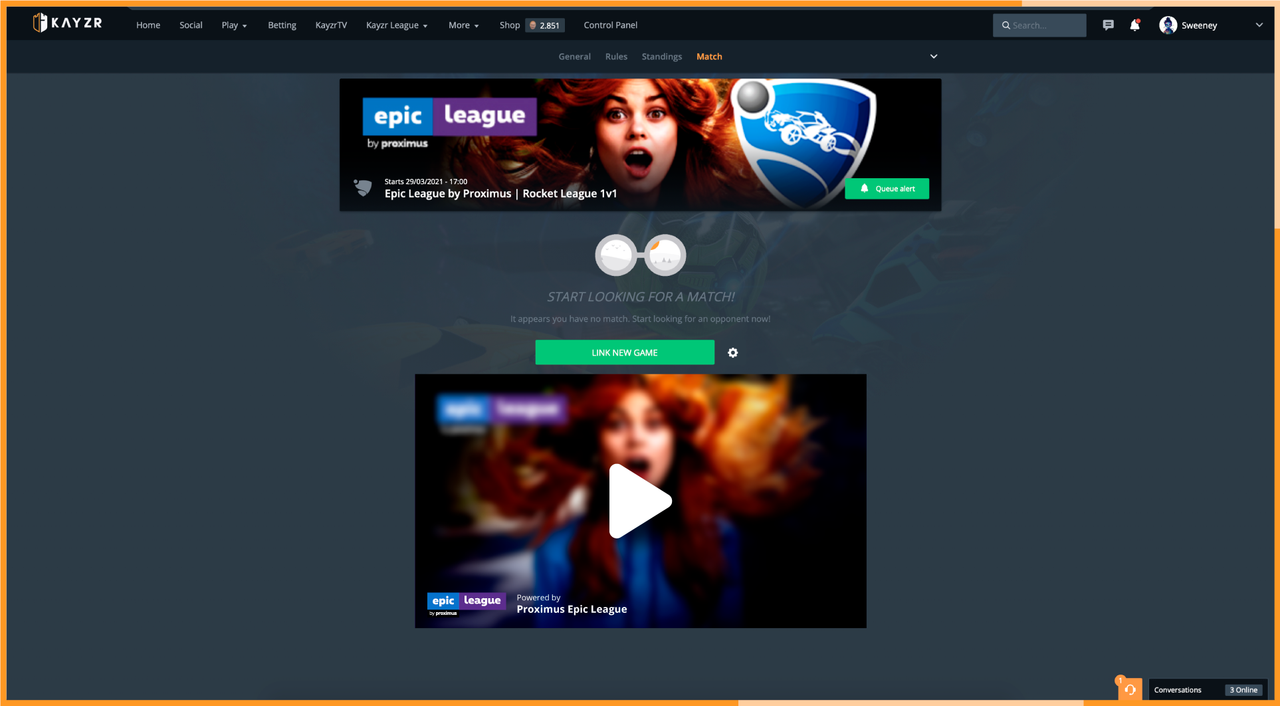 While doing so, Proximus built positive sentiment around their brand. Native advertising got them over 1 million page views per month. All while being fully immersed in the esports community.
Engagement marketing with the Epic League
Engagement marketing is about interacting with your audience in a meaningful way. You want to connect with your target group at a deeper level than just slapping your logo on something. Through Kayzr you can host gaming tournaments or leagues, and manage your own branded community.
Proximus hosted their own monthly Epic League. Here, they organized competitions in games such as Fortnite, Rocket League, and Brawl Stars with a final week of Call of Duty: Warzone. Gamers on Kayzr could win awesome prizes for competing.
By giving gamers a chance to win prizes, users were activated to participate. Over 5000 matches were played every month! Over the course of 3 months that equals more than 625 full days of playing matches. Besides engagement, Proximus also enjoyed positive reactions in the Kayzr social feed.
Tournaments are usually for the best gamers only. A league, however, is accessible to everyone. Gamers get a set time window in which they can play as much as they want. It doesn't matter whether they win or lose, everyone gets a chance to compete and win rewards. Additionally, league participants can enter a lottery in which they can win prizes like a OnePlus phone, an Epic subscription, and more!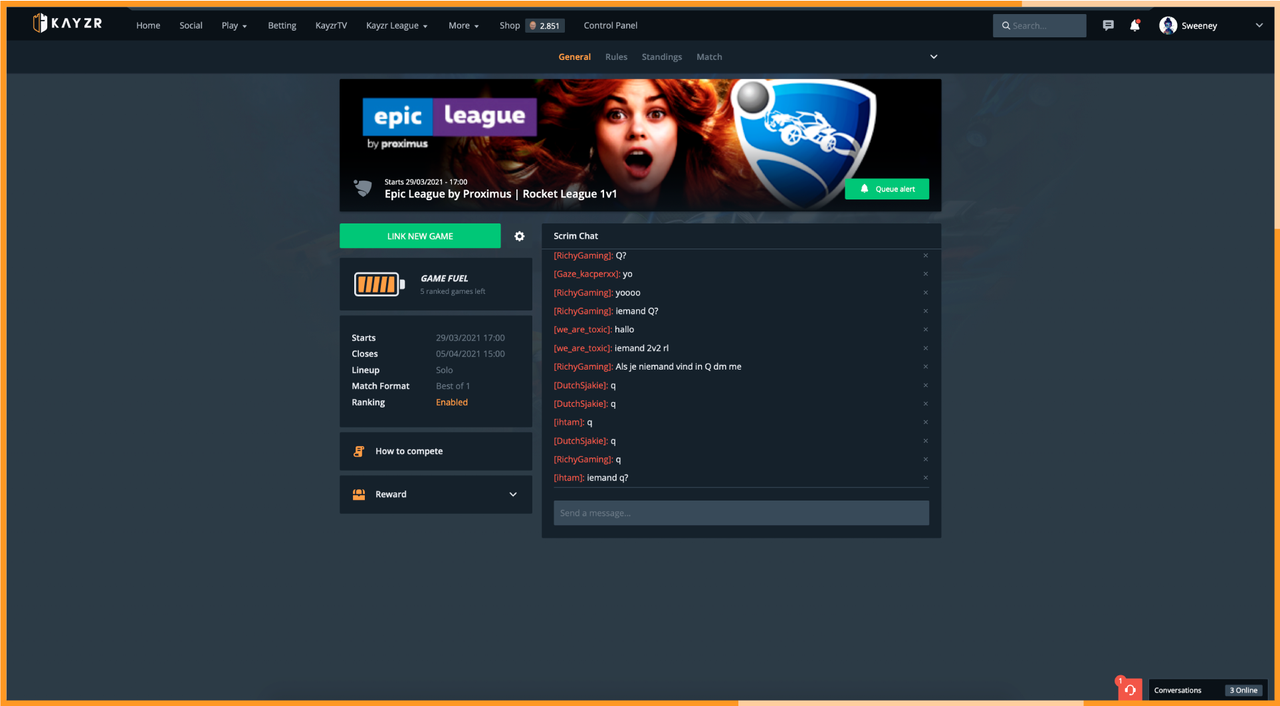 A unique aspect of this esports campaign was the Proximus epic coin. Users could get these by winning matches and then redeem these coins by entering a raffle where you can win Proximus Epic products like a One Plus, an Epic subscription, or gaming gear. The Kayzr users could also find sponsored products in the Kayzr shop.
By hosting their own tournament Proximus created a memorable campaign, aligned with their target audience. They got to spread the word about their brand while cementing their status as a digital-native proof brand!
Results
1 million+ monthly page views
100,000+ monthly video views
5000+ monthly matches played, good for over 625 full days
How Proximus leveraged gaming content on Kayzr TV
Kayzr TV is the Twitch channel of Kayzr which streams popular streamers and professional gamers in the Benelux, as well as their own concepts. For instance, the 'Kayzr Podcast', and 'Beat The X' with Sen de Paepe from radiostation MNM. In this concept Kayzr users get to challenge well-known people like moderators, influencers, comedians, gaming communities and anyone else who's entertaining!
Game-related content is one of the most popular niches among digital natives. Every year billions of hours go into watching both live streams, videos, or other content. In 2020, over 100 billion hours were spent watching gaming content on YouTube. That doesn't even include other popular platforms like Facebook Gaming and Twitch!
Proximus enjoyed visibility on Kayzr TV which has 100,000+ live views per month. The brand seamlessly fits in the viewer experience through in-stream overlays, clickable tiles, content integration, and in-stream ads. Through their partnership with influencer agency Adshot, Proximus managed to work with popular streamers to amplify their reach even more.
Results
325 hours+ streaming content
100,000+ live views per month or 857 full days watched
Over 1 million total minutes watched
Partnering up with influencers to create the Average Rob League
As part of the Proximus Epic esports campaign, Proximus partnered up with endemic brands Qallo & Alternate to set up the 'Average Rob League'. Here, followers and fans of the social media phenomenon and YouTuber could compete against him and his brother, known as 'Arno the Kid' in a Fortnite battle.
The esports campaign was of course well integrated into the social media of Average Rob and Kayzr.
Within 4 hours 1400 matches were played. The stream reached 1074 concurrent viewers at its height and Proximus had over 150 participants in a One Plus phone giveaway. After the tournament, live streams were edited and published on Kayzr's YouTube channel.
Working with influencers or personalities and partnering up with other brands can help to boost your esports campaign even more! It's not just about reaching a bigger audience but getting the opportunity to create branded and integrated content. It's the best way to immerse yourself in a community.
Results
1074+ concurrent viewers
150+ giveaway participants
1400+ matches played within 4 hours
Recap
Despite new media offering more options to target audiences, reaching generations like millennials and generation Z is hard. The biggest hurdle are Adblockers and a general dislike for ads. Luckily, the fast-growing segments of esports and gaming offers an excellent way to get in front of the hard-to-reach digital natives, even on a local scale.
Proximus' esports campaign leveraged native advertising on the Kayzr platform and Kayzr TV to get visibility within their audience. Several appearances on the social feed or in the Kayzr shop generated millions of page views for Proximus.
Additionally, the Epic League esports tournaments were a great example of engagement marketing. With over 5000 monthly matches played, it was a great success. By bringing in influencers such as Average Rob they were able to reach new audiences and directly engage them in a fun experience!